Tonight's TV: You Can't Spell "Swamp Ape" Without '[Wife] Swap', Plus: Shark Week!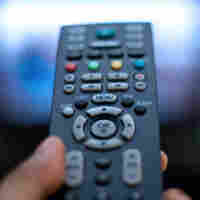 From the listing for tonight's Need To Know (8:30, but check your local listings! PBS!): Episode title? "N/A." Description? "N/A." Crew info? "No information is available." Well-played, Need To Know.
Friday Night Lights (8:00! NBC!) is new tonight. I could look up the episode description for you, but I would personally rather come at the show fresh. Normally, this would be a horrible dereliction of duty, but look, you're either watching this show or you're not. (You should be in the former group.) A synopsis isn't going to sway you one way or the other.
Tonight's Wife Swap (8:00! ABC!), on the other hand, is all about the description: "A family who dote on their hip-hop artist son swap with a monster-obsessed family who hunt the Swamp Ape."
Should you be in the mood for cheese at 9:00 on Saturday night, you have your pick between Hallmark's Lies Between Friends and Syfy's Jack Hunter And The Lost Treasure Of Ugarit. Each is very likely exactly what it sounds to be.
Saturday at 8:00 (but check your local listings), Aretha Franklin Presents: Soul Rewind offers clips of Lady Soul and many of her contemporaries on stage. The PBS website uses the phrase "vintage performances," so this is the good stuff.
Looking to Sunday, there's the premiere of AMC's Rubicon (8:00!), the description for which I frankly don't understand. Something about an intelligence agency, plus there's Miranda Richardson from The Crying Game,  Damage and Black Adder.
Sunday also brings new episodes of True Blood (9:00! HBO!), Drop Dead Diva (9:00! Lifetime!), Leverage (9:00! TNT!), My Boys (10:00! TBS!), Mad Men (10:00! AMC! Marsha!) and, with "Ultimate Air Jaws" at 9:00, the start of Discovery's Shark Week.