'30 Rock' Announces A Live Episode, And Other NBC Executive Tidbits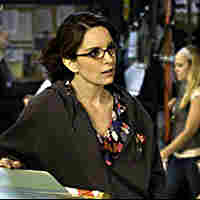 We've got a quick break following the NBC executive session (that's the part where the network mucky-mucks take assorted questions on things they both are and aren't in charge of). This morning, we had Jeff Gaspin, the president of NBC's Television Entertainment section and Angela Bromstad, who's in charge of specifically in charge of primetime TV.
The nugget getting the most attention is probably that 30 Rock will be doing a live episode on October 14. It will be performed once for the East coast and once for the West, so you'll get to see it live, even if you live in California. We didn't get many other details, but some should be forthcoming at some point.
Other news:
The Office isn't going anywhere when Steve Carell leaves after the upcoming season, and the producers already have a plan for who will replace him. The fact that the show will go on has been reiterated a number of times, but for those who still were hoping somebody might change course at the last minute and decide to wrap it up — that isn't happening. Bromstad compared it to the fact that they wouldn't have ended ER just because George Clooney left, not necessarily taking into account that not a small number of people sort of think they should have ended ER when George Clooney left.
Amusingly, Bromstad also chalked the show's continued life up to the fact that her 14-year-old son would be really mad if it ended. (To which Tim Goodman of The San Francisco Chronicle tweeted, "Someone find Angela Bromstad's 14 yr old son and give him Arrested Development boxed set. Comeback time, baby!")
An issue was raised about the network's position on the pilot of Outsourced, the Indian call center comedy that has not — and admittedly, this is based on my informal discussions only — gone over well with the critics here. (I have been involved in at least three separate discussions of which is in more trouble, as between NBC's Outsourced and CBS's Bleep My Dad Says.)
Bromstad said there would be at least one casting change from the Outsourced pilot, and allowed as how some other changes might be in order. She said the network likes the pilot, but carefully stressed that it's a pilot — just like The Office was once a pilot. In other words, Angela Bromstad would like to remind you that you may not have liked that pilot, either, smarty-pants.
NBC is going forward with a version of Prime Suspect (originally a British series starring Helen Mirren). It will come from Peter Berg's production company (Berg does Friday Night Lights), and will be written by Alexandra Cunningham, who's written for both NYPD Blue and ... Desperate Housewives. Oh ... networks.
Guest-star scoop includes upcoming appearances by Drew Carey on Community (...really?), and the return of Kathy Bates to The Office.
Overall, Gaspin in particular continued to assure critics that NBC recognizes some of the errors of its ways in recent years — he said essentially that they tried to make a lot of changes when they were already in a weak position. On the other hand, he also said the network hadn't taken enough chances. So look for fewer changes and more changes coming to you from NBC.