Tonight's TV: When You're A Jet, You're On HBO, Plus: It's The End Of 'Art'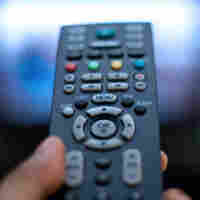 Is it worth mentioning that Minute To Win It (8:00 p.m.! NBC!) is tonight? Has Minute to Win It been building toward some sort of climax? Is there important Minute To Win It news coming? (PLEASE NOTE: I had originally noted this as the season finale, as it is listed as such in the last listings I saw. NBC passed along what is, I think, the first official correction in the history of "Tonight's TV" and asked me to note that it is actually not the season finale of Minute To Win It. I'm sorry! I officially vow to remind you next week when Minute To Win It is on again, so that you can be sure not to miss Minute To Win It under the mistaken impression that this was the season finale.)
I should mention, though, that it's the ever-popular "Restaurant Wars" episode of Top Chef (9:00 p.m.! Bravo!). Who doesn't love Restaurant Wars? Whoever has to work the front of the house, that's who.
I would like to point out that there are new episodes tonight at 9:00 p.m. of both Man vs. Food (Travel Channel) and Man vs. Wild (Discovery). So it's about what battle means the most to you, really.
I was out of town last week when The Choir (10:00 p.m.! BBC America!) started airing the "Boys Don't Sing" episodes, in which Gareth Malone goes to a boys' school. But these might be my favorite ones, and you can absolutely jump in any time, so if you're not in yet, jump in.
And if you like art, particularly art on TV, you won't want to miss the finale of Work Of Art: The Next Great Artist (10:00 p.m.! Bravo!), where Bravo will name someone who is almost certainly not our next great artist.
It's also premiere night for HBO's football training camp show, Hard Knocks (10:00 p.m.!), which will be following the New York Jets this year.