Culturetopia: Against the Grain Edition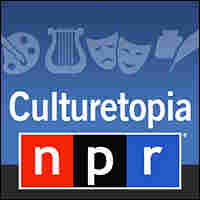 This week's Culturetopia podcast has one of my favorite pieces of recent memory—a gorgeous profile of the iconic singer Chavela Vargas, best known for her gripping interpretations of Mexican corridos, boleros and rancheras. Maybe, like me, you first heard about her in the movie Frieda. (Vargas was one of the painter's lovers.) She's 91 years old and still going strong.
We've also got a really cool piece that traces the history of the Vietnam war through pop music. Also in the category of pieces that transcend their baby boomer appeal? This interview with Nora Ephron. I kind of feel I've been hearing a lot about Nora Ephron, maybe a little more than I needed to, but you've got to hand it to the lady screenwriter who feels bad about her neck—she's a terrific conversationalist and her chat with Renee Montagne was fun.
Pat Dowell is one of the sharpest film reporters out there and she brings us this gem of a piece about Guy And Madeline Sitting On A Park Bench –an utterly charming film made by a Harvard undergraduate who combined documentary style filmmaking with…classic musicals. And finally, a piece about a new Smithsonian exhibition that happens to be the first show at any major American art museum focusing on gay and lesbian portraiture.
Subscribe here, listen below.