Culturetopia: Musictopia Edition!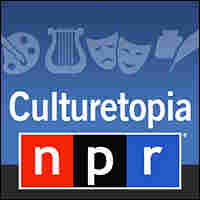 It's a singing, dancing, all-music podcast of the week's best arts pieces on NPR. We start with a look behind the scenes in Nashville's Music Row as a part of our ongoing Hitmakers series. This interview with Will.I.Am was not part of that series but it could have been—the man born Williams James Adams Jr. founded the mega-sucessful group the Black Eyed Peas more than a decade ago.
Then Scott Simon interviews the engaging founder of Island Records, Chris Blackwell. Together, they reflect upon his fifty years importing reggae from Jamaica, folk rock from Britain and more.
Then we've got two more somber pieces—one about how the Juarez Symphony Orchestra offers a refuge in one of Mexico's most drug-battered cities, and another about artists who've brought poignant attention to blighted buildings in Saginaw, Michigan by painting them with lyrics from the Simon and Garfunkel tune, "America."
Michigan seem like a dream to you now? Subscribe to Culturetopia here, or just listen, below.