Culturetopia: Deja Vu Edition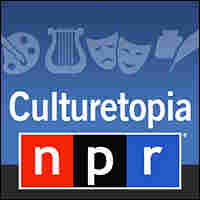 The lineup for NPR's arts podcast this week includes a bunch of cool pieces, including an interview with writer Mark Harris, who claims Hollywood is paralyzed by excessive caution when it comes to filming anything original. This might not strike you as the most original thesis itself, but Harris is really quite engaging in his explanation of how this came to be. (In three words: Blame Top Gun.)
And when Rihanna released the video for her new song, "S&M," she probably hoped to stir up a little controversy — just not the kind she actually got. The singer was sued by her friend, photographer David LaChapelle, for appropriating images he claimed were owned by him. But, as NYU professor Jason King points out in the piece, this is all part of "the constant feedback loop of borrowing" in popular culture.
We've got a look at how possible changes in tax law could affect nonprofit arts groups, a new book about the life of beloved illustrator of the macabre, Edward Gorey, and law professor Joan Williams, best known for her work on gender, class and family, talks about something quite different—what music she listens to in her spare time.
Subscribe here, or listen below.