Old-School Sherlock Holmes Comes To Blu-ray In A New Set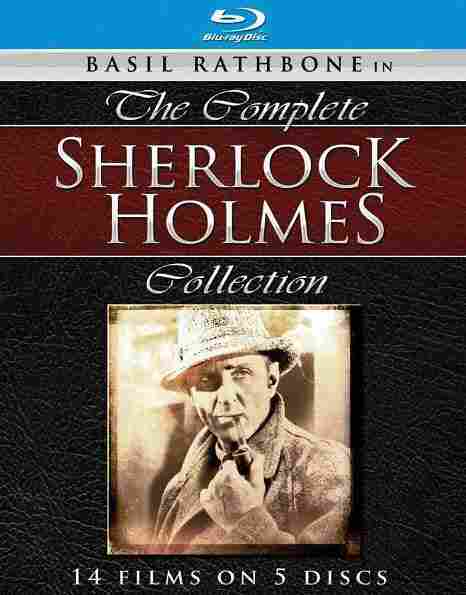 When my girlfriend broke up with me senior year of high school, I spent my spring break convalescing in my basement bedroom, reading Sherlock Holmes stories and listening to old Velvet Underground records. Good medicine, by the way. It's hard to lament an unrequited love when Lord Baskerville is found dead on the moors and Lou Reed is waiting on his pusherman.
Ever since, I've been a stalwart Sherlock Holmes fan (VU, too) and have followed Sir Arthur Conan Doyle's great detective in all his incarnations. The recent big-budget Hollywood treatment with Robert Downey, Jr., was my favorite popcorn movie of 2009, and I'm digging the BBC's new Sherlock, which updates the action to contemporary London and stars the gloriously-named U.K. actor Benedict Cumberbatch in the title role.
(I'm also currently reading Graham Moore's recently released debut novel The Sherlockian, the popularity of which is a deepening mystery in itself — this seems more a case of successful marketing than successful authoring.)
Nayhoo, I'm clearly a Sherlock geek, so I was delighted when word came down Baker Street concerning Sherlock Holmes: The Complete Collection. This five-disc Blu-ray package, which hit retail shelves Tuesday, collects all 14 Golden Era films starring Basil Rathbone as Holmes, from 1939 to 1946.
There's more to the charm of this set than just Sherlock himself: I'm a big proponent of peppering your movie intake with a regular diet of properly aged films like these. The calmer pacing and theatrical styling of previous cinema eras makes for a pleasantly different home theater experience. Let Doyle's gentle mysteries unfold at their own pace and savor the gorgeous monochrome photography and delightfully mannered acting of the era.
Rathbone will always be the quintessential movie Sherlock, just as Sean Connery will always be the best 007. For my money, anyway. Speaking of which, the collection is retailing for $130, but you can find discount deals online at around $80.
All of these titles have been packaged before, in various combinations, on DVD. But this is the first time the entire collection has been available in high-definition Blu-ray.
Twelve of the 14 titles have been digitally restored and remastered by the UCLA Film and Television Archive, and the extras reveal what a labor of love it was. The technicians and historians had to scrounge up whatever prints they could find that had survived the years. In some cases, old 16-millimeter transfers were all that were available, or deteriorating copies of copies used by various TV networks.
It's fascinating stuff, if you're at all interested in film preservation and restoration. A few of the films actually had to be stitched together from multiple prints, so image quality can literally vary from scene to scene. They all have some degree of scratch and grime. As for the sound, it's been cleaned up as much as possible, but it's still mono, and can get awfully tinny when the brassy music scores swell.
The archivists also uncovered a few historical gems from the original theatrical prints — forgotten title cards, studio logo sequences, even ads for U.S. war bonds. Other extras include commentary tracks on six of the films from Holmes scholars, production notes, a stills gallery and some rare footage of Sir Arthur himself.
If you're new to the Rathbone movies, you can always just sample a few individually on DVD, to get a taste. I'd recommend The Scarlet Claw (1944), The Adventures of Sherlock Holmes (1939) and the series' first installment, The Hound of the Baskervilles (1939).
Here's the complete list of films included in the set:
The Hound of the Baskervilles (1939)
The Adventures of Sherlock Holmes (1939)
Sherlock Holmes and the Voice of Terror (1942)
Sherlock Holmes and the Secret Weapon (1943)
Sherlock Holmes in Washington (1943)
Sherlock Holmes Faces Death (1943)
The Spider Woman (1944)
The Scarlet Claw (1944)
The Pearl of Death (1944)
The House of Fear (1945)
The Woman in Green (1945)
Pursuit to Algiers (1945)
Terror by Night (1945)
Dressed to Kill (1946)