'Shut Up Little Man': A Viral Sensation Long Before The Internet Took Over
In 1987, two young buddies named Eddie and Mitch moved into a crummy San Francisco apartment and found that the next-door neighbors were a problem. Specifically, the neighbors were Peter and Raymond, two constantly feuding, often drunk older men who were maybe best friends and maybe worst enemies and maybe a couple, even though Ray frequently included anti-gay tirades in his outbursts. And as for Peter, his outbursts very frequently included the words, "Shut up, little man."
At first, Eddie and Mitch found the neighbors scary and annoying, but they also came to regard them as absurdly funny. So they hooked up some recording equipment and started going out on the balcony and aiming a microphone at Peter and Ray's window to tape their arguments. But they didn't just harvest what was being broadcast in their direction anyway: sometimes, they'd make prank calls over to Peter and Ray's place to fire them up into fighting or freaking out.
Eddie and Mitch's friends started coming over to listen in to the crazy neighbors, and copies of the tapes they'd made began to circulate. And they circulated and circulated and circulated, until Eddie and Mitch realized that people they didn't know were passing the tapes around, just like people now pass around YouTube clips, only with a little more elbow grease involved. Eddie and Mitch called the tapes "Shut Up Little Man," but by the time they were circulating in the wild, they'd sometimes just say, in a bland scrawl, "OLD MEN FIGHTING." And somehow, they kept on going and going. Imagine the conversation: "You have to hear this." [Hands over tape labeled "OLD MEN FIGHTING."] "Sure. Cool."
Written and directed by an Australian filmmaker named Matthew Bate, who employs a combination of interviews, reenactments, and even some animation, the documentary Shut Up Little Man traces the history of the phenomenon. It looks in not only from the points of view of Eddie and Mitch, but also by speaking to some of the people they and their tapes encountered along the way — people like artist Daniel Clowes (Ghost World), who became such a fan of the tapes that he ultimately drew the Peter and Raymond of his imagination. Ivan Brunetti, who created the series Schizo, drew Peter and Raymond, too. And the more people saw the tapes, the more things they did with them: There were stage productions based on the tapes, there were comics, puppet shows — and, of course, it originally became clear that there might be money to be made. And then everything was different.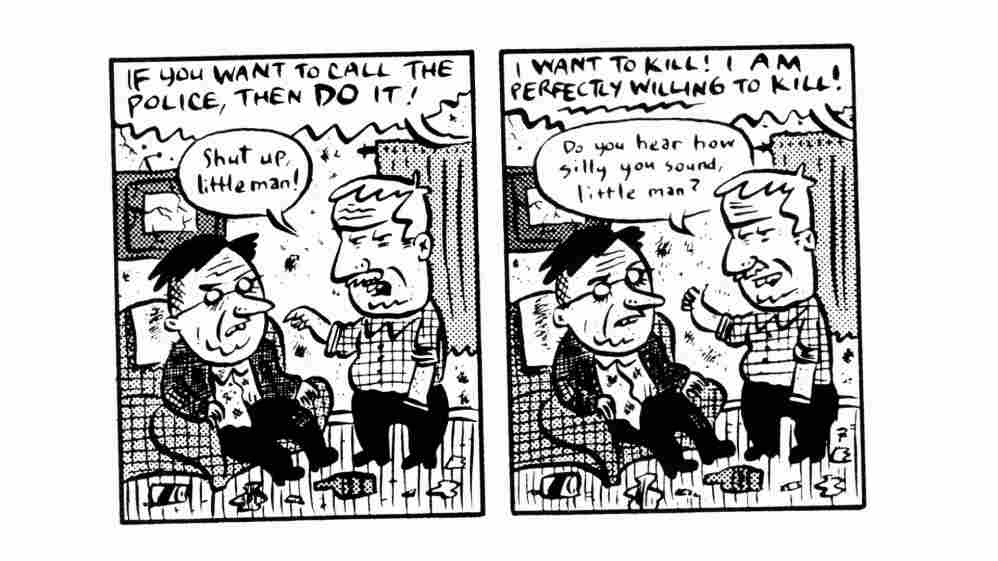 Ivan Brunetti/Tribeca Film
This documentary, which initially plays as a darkly funny story about eavesdropping on your crazy neighbors, gets progressively more depressing as the commercial potential of the tapes encroaches on the simple good fun everyone has been having up until then. And ugly, business-guy questions start to emerge: If surreptitious recordings are intellectual property, to whom do they belong? At one point, there are three competing movie projects underway about Peter and Ray, all seemingly trying to be the first to unscrupulously get Peter to sign away the rights to his life for some incredibly meager sum — in one case, allegedly, by getting him drunk.
By the end, Bate is asking some pretty tough questions about just how far Eddie and Mitch have gone in exploiting the fact that they happened to wind up living next door to these particular men. When Eddie, who makes a particularly pretentious speech about how the tapes constitute dangerous, daring, provocative art, Bate asks him: Is it part of the art that Eddie and Mitch are selling copies of Peter and Ray's death certificates on their web site? Sure, the CDs, maybe. The t-shirt, maybe. Those things are merchandising your product. But the death certificates? Is that art?
In one sense, the film is at its best in the early going, when it's documenting the fact that virally spreading entertainment with absolutely no commercial distribution in the early days did not come along only with the internet; that's just what made it far easier. But in another, there is something transfixing about watching a story go as you fear it will, in the direction of greed and commercialism, no matter how determined its participants were at the outset that it would be the opposite.
Shut Up Little Man would be an interesting film to pair with The Social Network, which is also at its most insightful when it's examining what happens when something people love suddenly stands to make a great deal of money. The people who circulated the first Shut Up Little Man tapes were their own social network, really — they didn't call it that, and they didn't have Facebook or status updates, but they were able to create surprisingly widespread knowledge of a bunch of cassette tapes of what was, after all, really just Old Men Fighting.
The documentary Shut Up Little Man is available in some locations via Video On Demand, and is also opening in a limited number of theaters throughout September and October. You can find a list of screenings here.