Out on the Street: Crowned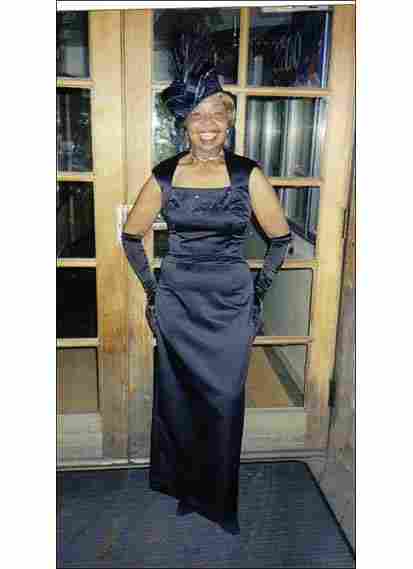 Every now and then a story or event doesn't make it on the air, but that we'd still want to share with you. Assistant Editor Jeneé Darden wrote in this account of her first church hat.
A few weeks ago, I completed a black female fashion rite of passage: I wore my first church hat.
My journey to hat-related bliss started in 2004 when I attended a fashion show hosted by the National Council of Negro Women in Oakland, Calif. The guests and models were decked out in beautiful suits and grand hats, and I was captivated by the colorful crowns accented with lace and jewels.
The array of models was just as diverse as the fashion, but one lady stole the show. She was a short, elderly woman adorned in a bright, black and white satin suit. And her hat was unforgettable, a large, wide-brimmed number trimmed with black and white feathers that matched her suit. It sat low on her head, but I got a peek under the brim at the confident, fun smile on her face. She wore the entire ensemble like it was her own skin, and when she strutted down the catwalk she owned both it and the audience.
Fate was at work, because I ran into the model that so captivated me at my hair salon a few months later. Her name was Mrs. Helen Peppers (yes, that's her real name!) and I immediately knew I had to hang out with her. For a then 77-year-old mother of seven, grandmother and great-grandmother, she turned out to be one fashionable lady. Mrs. Peppers models for various churches and organizations throughout Northern California, and at her quaint apartment in East Oakland she showed me the towers of shoe and hat boxes that house her fashion treasures. The suits, the gowns, the jewelry and the shoes made me feel like a little girl about to play some serious dress-up. Mrs. Peppers also imparted some valuable style advice, from the key to her strut (Give a bright smile to the audience and think: "Wouldn't you like to have what I'm wearing?") to her secret to beauty. ("Beauty is touching someone else's life.")
I left Mrs. Peppers apartment spiritually motivated and vowing that someday soon I'd be attending an event that would call for one of those glorious hats.
Fast forward to earlier this month and I'm finally shopping for my first hat. My sorority, Sigma Gamma Rho, was hosting our Western Regional Conference in Las Vegas. One of the events was a tea luncheon and sorors were asked to wear hats, sundresses and gloves. I was nervous at the start of my search because I'd never worn anything so extravagant on my head. But, it turns out that hat shopping is addicting! I morphed into a different woman with each hat I tried on. Sometimes I was mysterious, other times classy. But overall, I felt like a queen. Now I understand the hat craze among women.
After hitting countless stores I found my crown the night before I left for Vegas. A low-brimmed golden halo, hugged in satin and topped off with a ripple of curly bows. I tried it on and instantly felt fun, sophisticated and regal. And yes: I definitely strutted a bit when I walked into the luncheon.
As for Mrs. Peppers, she is now nearing 80-years-old and still dressing to the nines. She's been battling cancer the last few years, but that hasn't stopped her. I still haven't mastered Mrs. Peppers' strut. But, as a journalist, I try to use her beauty secret every single day.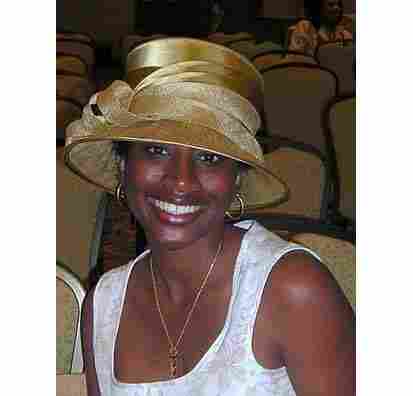 Do you have a favorite church hat story or picture? Write your stories in the comments to this post, and email us your pictures and we'll put them up on News & Views.