Barack Obama on NPR ... And a Teeny Weeny Shared Past : News & Views So we had a great time talking to Senator Barack Obama. And we were ... relieved.
Barack Obama on NPR ... And a Teeny Weeny Shared Past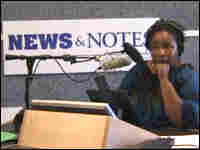 So we had a great time talking to Senator Barack Obama. And we were ... relieved.
What I mean is that the staff of News and Notes knows that not every interview comes through. So you might say, "We will have Blah-dee X. Blah on..." before a break. And then during the break, B-X-B gets stuck in the bathroom, or in traffiic, or has food poisoning.
As a matter of fact, earlier this week, Sen. Obama's staff almost gave us a heart attack when they said he might have to fly back to Washington for a vote on the Senate floor -- on the same day we were scheduled to interview him in Detroit.
But still, we stepped out on faith and asked you to give us questions for the Senator. And you answered our call ... in droves.
Check it out.
We even had to stop calling for questions.
But please read them. They're a wonderful reflection of democracy in action. And the Senator was gracious enough to answer three -- two of which we had time to get on air. The other can be heard online.
We also marked a first for News & Notes: Our Web producer, Geoffrey Bennett, videotaped me conducting the interview -- though, to be honest, you won't see footage of the Senator answering my questions from Detroit. (We aren't at that point yet; we are still radio, after all.)
But, we want to thank you for giving us some great questions. Honestly, I'm just just glad you're there. We are here because you listen, and talk, and, yeah, sometimes you send us angry letters. But we do appreciate the feedback.
I had a chance to meet Barack Obama way back, when he was the first black president of the Harvard Law Review (HLR) and I was a work study student there.
We were a funny crew at the HLR offices. And although the law students were on the other side of some invisible divide, I suspect from what I read now, as Barack Obama is a public commodity, that they were a family too ... fighting (uh, law students!) .. and yes, probably loving each other and fighting like brothers and sisters.
For example, I was fascinated by this testimony from a conservative Republican colleague, Carol Platt Leibau, who was there during Obama's tenure at the HLR. She writes in part:
I complimented his speech at the 2004 Democratic National Convention, and then, for some reason, felt it necessary to remind him that my praise was qualified by the fact that "of course I don't agree with any of your policies." With that, Barack simply threw back his head and laughed. Can anyone imagine Hillary Clinton, John Kerry or Howard Dean reacting that way?
So ... again, weigh in. We want to know what you think about our interview, the Senator and your hopes for the 2008 presidential election. We've extended invitations for interviews to all of the 2008 presidential candidates, so we'll be looking to you again for questions.