Defining Blackness

It's time again for our recurring series, "Speak Your Mind," where we invite our listeners to weigh in on the issues and news that matter most to them.
This entry comes from "News & Views" reader and frequent commenter Moji Oderinde of Oakland Park, Fla.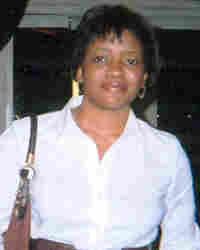 "I watched the CNN /YouTube debate. I must admit it was nice to see a different format with individuals in the comfort of their surroundings posing questions to the Democratic presidential candidates. But with any new thing, the novelty soon fades, and that was how I felt when I heard the couple of questions from an individual posed to Senators Hillary Clinton and Barack Obama.
The questions were how Clinton would answer those doubters who feel her gender makes her unqualified for the presidency; and to Obama, what he would say to those who think he is not black enough. "Not again," I said to myself. I wasn't surprised about the gender question, and it will keep on being asked until America finds the courage within herself to vote for a woman as the president. But isn't it strange we convey a country as a female possession but have a hard time seeing a female at the helm of the land's highest honor? It is just a thought, but I digress.
The second question about the sufficiency of Obama's blackness was what got me riled even into the next day, when my aunt asked for my opinion on the debate. I told her I was really glad that holding a public office is not my lot or desire in life because I wouldn't have to show how "black enough" I am by defending the fact that I am born to African parents or have lived in other parts of the world as a kid — because Obama is just like me.
This question is sounding like a broken record. Various many media outlets have featured commentaries about his so-called "blackness" — or lack thereof — during the past five months. I was impressed that he answered the question with a sense of humor, while expressing his belief in the "core decency of the American people." However, I have to say that Obama's answer was also good "politician speak." He avoided the issue because just like the many others who have asked this question in the past, the poser of that question on YouTube was African American.
Finding the answer to this peculiar question is an exasperating process because we (as blacks) have no concrete response to defining the ambiguous term called "blackness." After all, we were the ones who dubbed Bill Clinton "the first black president," making him one of "us." On the other hand, we have a black Supreme Court judge in Clarence Thomas, who denies that affirmative action had anything to do with his own success. So through his perception of being a self-made man, Thomas keeps making court rulings that make you wonder if he ever was one of "us." Not only that, we have whites who think they are black for wearing cornrows as hairstyles or black designer threads!
Imagine my surprise reading an article last week regarding a documentary by Paul McKenzie titled "Black like Beckham." You have got to be kidding me. If David Beckham is black, then I'm the soccer messiah. But we give the real brother (Obama) a hard time about his blackness for reasons that are beyond me: his mixed heritage, world travels and Ivy League education. Isn't this the same brother who took civil rights cases as a lawyer and made an uncommon decision to not support the Iraq war while his counterparts did? If you ask me, those actions give credence to the content of his character; and in my eyes that makes him black enough." — Moji Oderinde
If you have a submission, leave us a comment and we'll contact you. Remember — the range of topics is totally unrestricted. But all submissions have to adhere to our guidelines. So help us help you "Speak Your Mind."