Report: Affirmative Action May Harm Law Students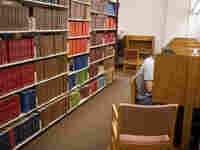 News Headlines: Aug. 28, 2007
Press Release: U.S. Civil Rights Commission Warns That Affirmative Action Might Harm Minority Law Students — "Admitting students into law schools for which they might not academically be prepared could harm their academic performance and hinder their ability to obtain secure and gainful employment ... Moreover, racial preferences might also contribute to racial income and wealth disparities."
Do you agree? What do make of the report's concept of affirmative action? Should racial preferences be used in student admissions?
More Headlines:
The New York Times: After a Trailblazer Is Honored, Williamses Carry on Her Legacy
Politico.com: Obama Supported by Wilder
ESPN.com: Coverage of Vick Means Bigger Issues Ignored
Washington Times: D.C. Tops in Obese Youths
BBC: South Africa Recalls Faulty Condoms
Los Angeles Times: Bids to Start for Bonds' Nos. 755, 756
The Atlanta Journal Constitution: Bishop Accused in Beating Blames Satan for His Woes
Newsday: Judges in Newark More Cautious with Bails After Slaying