Vick Pleads Guilty to Federal Dogfighting Charges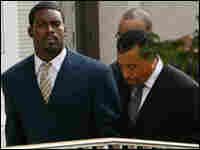 News Headlines: Aug. 27, 2007
USA Today: Vick Formally Enters Guilty Plea -- "In a court hearing that lasted just under 20 minutes Monday, Michael Vick entered a guilty plea to a conspiracy charge related to a federal dogfighting investigation that could send the Atlanta Falcons quarterback to prison for a year or more."
Update: Vick Apologizes, Asks for Forgiveness
Read the text version of Vick's apology.
What do you think of Vick's statements? What, in your opinion, would be a fair punishment?
More Headlines:
International Herald Tribune: U.S. Attorney General Alberto Gonzales Resigns
The Associated Press: Director John Singleton Won't Be Cited For Fatal Crash
The New York Times: Bring in the Reggae, Hold the Hate
USA Today: San Francisco Hopes to Reverse Black Flight
The New York Times: Liberian Ex-Leader's War Crimes Trial Is Stalled