The Jena 6 In Photos
The story of the Jena 6 has been told here and elsewhere , but to the extent that images tell stories words cannot, recent photos released of the town and some of the principal figures involved in the case add a humanizing dimension that, in some ways, makes this story all the more tragic.
Revisit our coverage:
Searching for Justice in Jena 6 Case
Charge Reduced in Jena 6 Case
Is Jena Getting a Bad Rap?
Your Comments on Our Blog
Click here to see the rest of the photos.
Photo: Brent Stirton, Getty Images

There has been an undercurrent of racial tension in Jena, La., which has led to outbreaks of violence between white and black students.

Scenes of destruction from Jena High School after arson caused a fire, which destroyed significant portions of the building.

Frankie Morris, 24, in his barbershop in Jena. Morris has recently taken over from retired Billy Dowty, a man who has publicly proclaimed that he has never cut a black person's hair in his career and never will. Morris said there would be certain white people in Jena who would have a problem with him using the same equipment on blacks and whites.

Marci and Chris Johnson are the parents of a 19-month-old son and complain of repeated incidents of prejudice in Jena since getting together.

Theo Shaw, 18, (left) and Robert Bailey Jr., 17, (right) two members of the Jena 6.

Justin Barker, 18, the alleged victim of a beating by six black students at Jena High School.

Theo Shaw, 18, a member of the Jena 6.

Members of the Jena 6 -- Theo Shaw, 18, (left) and Robert Bailey Jr., 17, (right) and Bailey's mother Caseptla Bailey (center).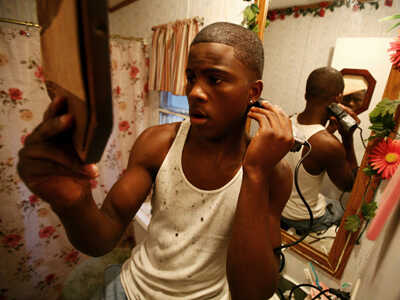 Robert Bailey Jr., 18, cuts his hair inside his family trailer.

Parents of the Jena 6 meet and have prayer.
All Photos: Brent Stirton, Getty Images