"Jena 6" the Latest Rap Group?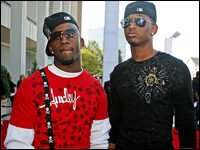 No, these two don't have the latest hit on the Billboard charts.
They are Carwin Jones and Bryant Purvis of the so-called "Jena 6." The two walked the red carpet of the 2007 BET Hip-Hop Awards, held this weekend in Atlanta.
According to those in attendance, they spoke briefly about the case before presenting the Hip-Hop Video of the Year Award.
Though their cohort Mychal Bell is back behind bars, that didn't stop the two from hamming it up for the cameras (even holding up the number six with their fingers).
What does it say about the culture's celebrity obsession that these two would be feted as stars? Do you think their participation in the award show undermines the gravity of the situation in Jena, La.?