Sharpton, Cheney in Confederate Flag Controversy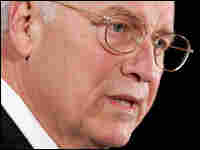 News Headlines: Oct. 31, 2007
New York Times (Blog): Cheney's Staff Says He Never Saw Confederate Flag -- "Vice President Dick Cheney is embroiled in yet another hunting-related controversy. The vice president made a daylong hunting trip on Monday to the Clove Valley Rod and Gun Club, an exclusive mountainside establishment in Union Vale, N.Y. At least one eagle-eyed photographer captured images of a Confederate battle flag hanging in plain view in a garage attached to the club's headquarters."
More: Photo of the Hanging Flag | Al Sharpton's Response
Do you believe the response from Cheney's spokeswoman that he "did not see the flag," and does it matter?
More Headlines:
Washington Post: Clinton's Foes Go on the Attack
Chicago Tribune (Clarence Page): Black Execs and Red Ink
Reuters: UN Envoys Find Profound Racism in Dominican Republic
The AJC: Lawyer Willie Gary Must Pay $28K a Month in Child Support
LA Times: Body Fat Is Linked to Six Types of Cancers