Talk About Today's Roundtable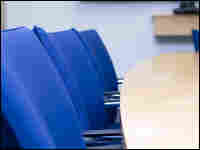 Some provocative topics on our bloggers' roundtable today ...
Bloggers Jehmu Greene, Leon Scott, and Casey Lartigue talked about the white residents of Logan, W. Va., apologizing to black residents for the torture of a black woman; comments from presidential candidate John Edwards about the future of black men; and Morehouse College's new president considering a dress code.
[Read Leon's thoughts about his participation in the roundtable.]
If you missed it, take a listen. Here's your space to state your case about the bloggers' positions and your own.