Track Star Marion Jones Admits Steroid Use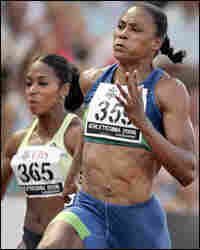 This from The Washington Post: "Track star Marion Jones has acknowledged using steroids as she prepared for the 2000 Summer Games in Sydney and plans to plead guilty tomorrow in New York to two counts of lying to federal agents about her drug use and an unrelated financial matter, according to a letter Jones sent to close family and friends."
"I want to apologize for all of this," she said, according to the person reading the letter, who spoke on condition of anonymity. "I am sorry for disappointing you all in so many ways."
For her admission, Jones could be stripped of the five medals she won in Sydney — three gold and two bronze.
We'll have more on tomorrow's show, but in the meantime, tell us what you think.