Andrew Young: Obama's Time Will Come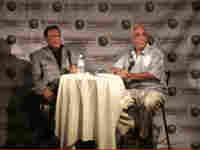 "I want Obama to be president," said former UN Ambassador Andrew Young, "... in 2016. It's not a matter of being inexperienced. It is a matter of being young."
In an interview with The Newsmakers Journal, Young explains with candor why he believes now is not the time for Obama to serve as president.
"There's a certain level of maturity," Young said. "You have to learn to take a certain amount of sh*t. ... Leadership requires suffering."
Saying, "Barack Obama does not have the support network yet to get to be president," Young added: "To put a brother in there by himself is to set him up for crucifixion. His time will come, and the world will be ready a visionary leadership. Now, somebody's got to clean up the mess."
Then Young offered this story about Bill Clinton: "Bill [Clinton] is every bit as black as Barack. He's probably gone out with more black women than Barack. [laughs] I'm clowning, but when they went to Nelson Mandela's inauguration -- there was a whole plane load of black folks who went down there. After the inauguration, there was a party. [Bill] Clinton was the one who said, "Let's start a Soul Train line!" All these middle class, bourgie folks looked around ... and Bill did the moon walk down the Soul Train line. And Hillary pulled her skirt up above her knees and she got down and went on through, too."
Watch the clip, and share your thoughts. Do you agree with Young? Taking the premise of Young's argument, does Obama need a "support network" like the one Young describes? Or have times changed? Is Obama too young?
Update: Obama Responds -- "I think a lot of folks have longstanding relationships with Bill Clinton," he said. "If you are a former president, you've got chits out there. Obviously, I disagree with [Young], or I wouldn't be running."