'L.A. Times' Apologizes for False Tupac Story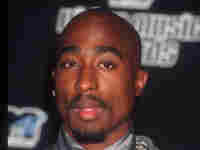 The Los Angeles Times published a controversial article last week, alleging that Sean "Diddy" Combs was implicated in the 1996 killing of rapper Tupac Shakur.
Today, the paper apologized for the article after The Smoking Gun found that it was based on false information.
Times Deputy Managing Editor Marc Duvoisin said, "In relying on documents that I now believe were fake, I failed to do my job. I'm sorry."
Don't worry. Diddy is going to be okay.
The story is interesting not necessarily because of its subject matter — Tupac conspiracies are more than abundant — instead it gives insight into an attempt by print media to deal with a changing marketplace.
The story was originally released only on the Web — as a "blockbuster investigative piece."
Now in a Brave New World scenario, the original article has almost completely disappeared, only to be replaced by the apology.
Where do you think the breakdown within the L.A. Times occurred? How do you feel about online journalism? Do you trust it in the same way that you trust other forms of media?
[But all this media noise is irrelevant anyway, because Tupac is still alive according to this terrible, terrible Website.]
Flashback: Tupac ... Is That You?