The 'Racism Vs. Sexism' Debate Revisited

Moji Oderinde is back with this week's installment of "Speak Your Mind." Oderinde hails from Oakland Park, Fla., and blogs at AfroAmerica Writer. This week, she writes about the perceived sexism and racism in the Democratic race for the White House. Take a look and share your thoughts.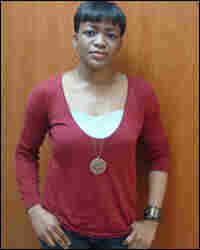 I'm loving this brand of theater called the election season, especially that of the Democratic Party. The two main characters, the hero and heroine of this play, are Senators Barack Obama and Hillary Clinton respectively.
The hero was a new brand of post-racial candidate, who generated the main question last year of whether he was "black enough." But recently his blackness is left unquestioned due to a certain Rev. Wright fiasco. What a difference a year makes!
The heroine has been a highly visible figure in the national and international scene for almost two decades. The fact that she is a woman was just an added bonus, but now she laments she might not get the destined prize based on a bias against her gender.
So the plot thickens, and I wonder which of these characters has the biggest hurdle to overcome: the racism or the sexism block.
Unfortunately, this is not theater. It is real life, and millions of voters are banking on changing the direction of the nation with their votes. It is sad (though inevitable) that the media will reduce this historic election season to just race and gender when key issues like the economy, education, and — the elephant in the room — an over five-year old war with no exit strategy remain unresolved.
Have I experienced racism? Absolutely. What about sexism? Definitely. As a black woman, I identify with both debates. But I will never say one issue is greater than the other like Gloria Steinem's controversial op-ed for the New York Times, defending the cause of sexism over racism. Nor will I be like Geraldine Ferraro, chiming the same sentiments last March and recently on the Today Show. Now Sen. Clinton joined her supporters in Steinem and Ferraro to voice the Media's "moments of gender bias" in a recent Washington Post interview of how her nomination went from a sure thing to a steep mountain.
Here's the deal about me: One of my pet peeves is with folks seeing hidden racism or sexism in everything. I think such moves could be a cop-out for a fundamental reason why a person might not succeed in a venture, in this case, a presidential nomination.
So as I watched some TV pundits highlighting different scenarios of sexism against Sen. Clinton, I wondered if they quickly forgot some scenarios that could be called racism against her opponent. But I digress.
The perceived sexism aside, could it be that the media or some voters are not against supporting a woman for president, but not this particular woman they see in Sen. Clinton? What about how she ran her campaign?
Let me count the ways: First, she announced herself as the most experienced candidate when the nation's pulse for almost two years has been about change. Second, the inconsistency in her message: She started out as the most experienced before the primaries, found her voice in New Hampshire, became "Rocky" in Philadelphia, and now being the most electable among "hard-working white Americans." Finally, she did not have the strategic foresight to campaign in caucus states or plan for any contingency especially in the area of raising money just in case the primaries ran longer than Super Tuesday.
What does sexism have to do with the missteps of this campaign?
— Moji Oderinde
Flashback: Speak Your Mind — Defining Blackness