Black-Latino Relations in the Race for the White House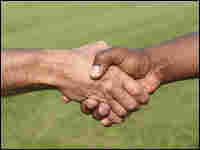 On today's show, we're kicking off a three-day miniseries focused on the state of black leadership.
First up: an in-depth look at the history of black-Latino relations in the U.S., with a particular focus on Barack Obama's appeal among Latino voters.
For insight, Farai will speak with a group of experts on Latino-American politics to help us get the big picture.
But first, share your thoughts on the topic:
- How important are Latinos in Obama winning the general election?
- How strong is the threat that Latinos just won't show up at the polls?
- Is Obama's race a factor for many Latino voters?
- As Obama and McCain battle for the Latino vote, what are the "litmus test" issues?
Related Links:
BlackProf.com: Black-Latino Relations and the Public Discourse
New York Times: In Obama's Pursuit of Latinos, Race Plays Role