112-Year-Old Artist Draws on Life Experience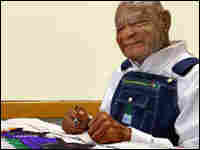 Frank Calloway isn't your normal, everyday art sensation. For starters, he was born in 1896. That makes him more than a decade older than John McCain's mother, Roberta. The 112-year-old diagnosed schizophrenic spends seven to nine hours per day drawing colorful 30 foot murals of the rural South that he remembers from his childhood.
"I couldn't get time to go to school much, stopped in the third grade reader, that's all I could get, third grade reader," Calloway said in a recent interview. "A school teacher put me to drawing a long time ago, drawing pictures."
But aside from the occasional drawing, his talent lay dormant until he took an art class in the 1980s and began to draw again, which has continued to this day.
Calloway still has a full head of closely cropped white hair, gets around on his own and goes on excursions and restaurant outings organized by the nursing home, Moncrief-Craig said.
"Most people see his age. You know, what I see is his ability, the beauty that he actually puts on paper, that comes out of him and his mind," she said.
Frank's art has created quite a stir outside of his nursing home in Alabama. Appraisers have told Mr. Calloway and his guardians that the murals could be worth thousands of dollars. The American Visionary Art Museum in Baltimore will borrow 18 scrolls from Frank for an exhibit in October called "The Marriage of Art, Science and Philosophy."
Plans are for Calloway to attend the opening of the Baltimore show. It will be his first trip on an airplane and likely the first time he's left Alabama. Hutto said she looks forward to sharing his work with a wider audience.
"His art overcomes boundaries. People may say, 'Well, he's a folk artist. I don't like folk art.' But if you ever meet him, there is such life in what he creates, and you can't look at one of his paintings without seeing that smile, without seeing that gentle man."
For more on Frank's amazing story, head on over to Black Voices.