Trying to Get Into Jazz? Start With These CDs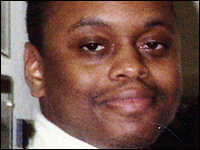 This month, as you know, News & Notes is exploring jazz music with a series of profiles, features, and interviews.
Our introductory segment, "What Is Jazz?," featured insight from three jazz aficionados, including freelance writer and radio producer Eugene Holley Jr.
Here, Holley offers five "can't miss" CDs which serve as good introductions to the genre:
Miles Davis, Kind of Blue, Sony Music, 1959:
The greatest and most popular jazz recording every made! And no wonder: Miles Davis, with saxophonists John Coltrane and Cannonball Adderley, pianists Wynton Kelly and Bill Evans, bassist Paul Chambers and drummer Jimmy Cobb, laid down five blues-based, hip-notic ballad and mid-tempo tracks that soothes and grooves jazz neophytes and die hards alike.
Ahmad Jamal, Ahmad Jamal at the Pershing: But Not For Me, Argo/Cadet 1958:
A pianist named Ahmad Jamal, with bassist Israel Crosby and New Orleans-born drummer Vernel Fournier, recorded a live set at the Pershing Room in South Side Chicago. The result yielded a master class on how live jazz swings, as evidenced by Jamal's hit rendition of "Poinciana."
This photo of Miles Davis comes from the cover of the album, "Kind of Blue."
John Coltrane, A Love Supreme, Impulse!, 1964:
This masterful four-track suite -- with pianist McCoy Tyner, drummer Elvin Jones, and bassist Jimmy Garrison -- took Coltrane's powerful "sheets of sound" improvisations to the heights of jazz immortality.
Stan Getz/Joao Gilberto/Antonio Carlos Jobim, Getz/Gilberto, Verve, 1964: This album joined Brazilian bossa nova co-creators, pianist/composer Antonio Carlos Jobim, singer/guitarist Joao Gilberto, along with his wife Astrud on vocals, with American saxophonist Stan Getz. This soft and soulful Latin jazz marriage produced many enduring standards, including "The Girl From Ipanema."
Herbie Hancock, Gershwin's World, Verve 1998: Though he won a Grammy for River: The Joni Letters, this project equally shows the all-encompassing artistry of this pianist. A true all-star date that includes Joni Mitchell, Stevie Wonder, and saxophonist Wayne Shorter, Hancock re-imagines music created and inspired by George Gershwin into uncharted R&B, classical, and African inventions and dimensions.
What, if anything, would you add to this list?