Convention Season Begins, Our Coverage Continues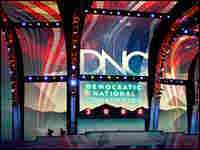 Beginning today, through next week's Republican National Convention, News & Notes' special convention coverage continues here on our blog.
We'll be featuring two special guest bloggers, who will offer their perspectives and a little firsthand reporting from the convention floor. And on Thursday, when Obama accepts his party's nomination, we'll host a live online viewing party (more on that later).
In the meantime, check out these useful DNC-related resources.
Program Schedule | Delegate Profiles | Photos | Full Coverage