McCain Picks Alaska Gov. Sarah Palin As VP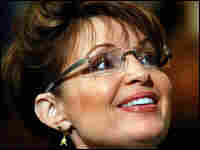 From NPR's Deborah Tedford: "Republican Sen. John McCain has selected Alaska Gov. Sarah Palin to be his vice presidential running mate, a move that brings youth and a staunch abortion opponent to the GOP ticket.
McCain's campaign made the announcement Friday morning in advance of a noon rally in Dayton, Ohio, where the two appeared together.
The campaign's statement touted Palin as a maverick who has challenged the influence of Big Oil and used her veto power to cut budgetary spending." Read the rest, and share your thoughts. We'll offer analysis of McCain's VP pick on today's show.
Related: Obama Picks Biden For Vice President