GOP Mailing Depicts Obama on Food Stamps, Not Dollar Bill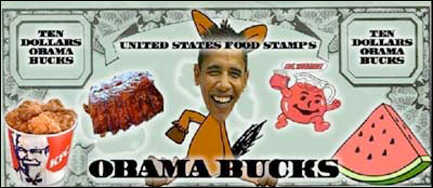 A Republican women's group in California is the latest GOP organization to be accused of racism against Barack Obama. A mailing distributed by the Chaffey Community Republican Women in October says if Obama is elected his image will appear on food stamps, and not on normal dollar bills like other presidents.
The statement is followed by an illustration, naturally. Labeled "United States Food Stamps," the fake $10 bill features Obama's face on a donkey's body, which is surrounded by a bucket of KFC, watermelon, and the Kool-Aid man.
Here's more:
The group's president, Diane Fedele, said she plans to send an apology letter to her members and to apologize at the club's meeting next week. She said she simply wanted to deride a comment Obama made over the summer about how as an African-American he "doesn't look like all those other presidents on the dollar bills."
"I didn't see it the way that it's being taken. I never connected," she said. "It was just food to me. It didn't mean anything else."
Sheila Raines, an African-American member of the club, was the first person to complain to Fedele about the newsletter. Raines, of San Bernardino, said she has worked hard to try to convince other minorities to join the Republican Party and now she feels betrayed.
"This is what keeps African-Americans from joining the Republican Party," she said. "I'm really hurt. I cried for 45 minutes."