Palin Supporter Shouts At Black TV Sound Man: 'Sit Down, Boy!'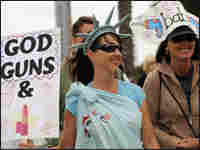 The final month of presidential campaigning appears to be turning into a culture war. The McCain/Palin campaign's initial decision to go negative against Barack Obama this week has, in some cases, created environments ripe for unbridled racism.
Take, for instance, this incident as reported by Dana Milbank of The Washington Post:
Worse, Palin's routine attacks on the media have begun to spill into ugliness. In Clearwater, arriving reporters were greeted with shouts and taunts by the crowd of about 3,000. Palin then went on to blame Katie Couric's questions for her "less-than-successful interview with kinda mainstream media." At that, Palin supporters turned on reporters in the press area, waving thunder sticks and shouting abuse. Others hurled obscenities at a camera crew. One Palin supporter shouted a racial epithet at an African American sound man for a network and told him, "Sit down, boy."
Huffington Post has a list of other such incidents. And Politico today gets answers from a group of notable political watchers to the question: "In what ways do you think race has mattered in the campaign so far and what difference do you guess race will make in the end?"
---
Meanwhile, in an unrelated story (which is outlandish enough to deserve a mention), the Kenyan government today deported writer Jerome Corsi -- author of the anti-Obama book, The Obama Nation. He was reportedly picked up by police for not having a work permit.
From The Guardian (UK):
Corsi had been scheduled to launch the book today in Kenya. Organisers of the book launch said Corsi had not broken any immigration rules but was considered an embarrassment.
"His papers were found to be in order. His passport was fine, his visa was fine," Peter Mbae , his publicist in Kenya, told Reuters. "But the government did not want him to launch his book on Kenyan soil. That's why he has been deported."
Immigration officials declined to comment.
Obama is a popular figure in Kenya, where his father was a government economist. Several of his extended family still live there.
A recent poll found that 89% of Kenyans want Obama to win the US election.
In the book, Corsi asserts -- wrongly -- that Obama was raised as a Muslim.