Voters Being Steered Away From The Polls?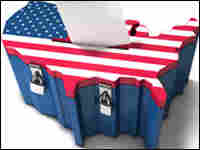 As Election Day draws near, so too do fears of voter disenfranchisement.
On today's show, Farai spoke with Earl Ofari Hutchinson and Melanie Campbell of the National Coalition on Black Civic Participation about the nature of black voting patterns and whether there are still ways to steer black voters away from the polls.
Two stories in the news today are noteworthy:
According to the New York Times, "tens of thousands of eligible voters in at least six swing states have been removed from the rolls or have been blocked from registering in ways that appear to violate federal law, according to a review of state records and Social Security data."
The article continues:
... because Democrats have been more aggressive at registering new voters this year, according to state election officials, any heightened screening of new applications may affect their party's supporters disproportionately. The screening or trimming of voter registration lists in the six states — Colorado, Indiana, Ohio, Michigan, Nevada and North Carolina — could also result in problems at the polls on Election Day: people who have been removed from the rolls are likely to show up only to be challenged by political party officials or election workers, resulting in confusion, long lines and heated tempers.
Meanwhile, the Nevada office of ACORN, an organization which registers low-income people to vote, was raided this week over allegations of voter fraud. As reported in the Las Vegas Review-Journal, "state authorities ... allege that its canvassers falsified forms with bogus names, fake addresses or famous personalities."
A Domino's pizza worker tells the New York Post "he'd registered to vote '10 to 15' times after canvassers for ACORN, whose political wing has endorsed Barack Obama, relentlessly pursued him and others."