African-American Art Gaining Popularity, Higher Prices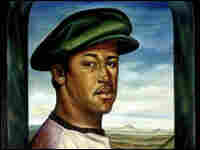 The huge, international contemporary art exhibition, Art Basel, kicks off in Miami this week. (Our own Farai Chideya is there; she'll be calling in with a report on tomorrow's show.)
Though the U.S. economy is struggling, the art market is thriving, by comparison -- especially works by African Americans.
Susan Adams of Forbes.com explains why in an article titled, "Why African-American Art Is So Hot."
Though mainstream museums and galleries have been slow to appreciate work by African-Americans, the black community has been collecting for decades.
Bill and Camille Cosby have built a collection of 400 works, including artists like Bearden, Lawrence, late-19th-century landscape painter Edward Mitchell Bannister, self-taught 20th-century artist Horace Pippin and 1960s abstract painter Alma Thomas.
Basketball star Grant Hill owns a collection of midcentury work. Entertainer Harry Belafonte has been collecting African-American art since the 1950s and Oprah Winfrey has been buying a mix of work, including pieces by contemporary artists like Whitfield Lovell. Spike Lee, Denzel Washington, Samuel L. Jackson, Richard Parsons and Kenneth Chenault also collect.
Now white collectors and institutions are discovering these long overlooked works.
"What's happened in the last five years is a paradigm shift," observes Steven L. Jones, 61, an African-American dealer in Philadelphia. "This means that the best work is going up exponentially in value."
Last year Swann Auction Galleries in New York became the first auction house to create a department of African-American art and in February sold a 1944 modernist oil by Harlem Renaissance artist Aaron Douglas for $600,000.
... Prices continue to climb for quality pieces, even while other collecting categories founder.
Manhattan dealer Michael Rosenfeld says business is strong; he made three six-figure sales during two weeks of stock market turmoil in November. The highest prices for artwork by African-Americans come in the still overheated contemporary art market, where Andy Warhol protege Jean-Michel Basquiat is the reigning star, with a 2007 auction record of $14.6 million. Kara Walker, 39, who makes large cut-paper silhouettes containing sexual images and black stereotypes like pickaninnies, stirs controversy and commands prices over $400,000.
Who are some of your favorite African American artists?
Related: Black Masters (Photo Gallery)