Falling in Love with the Elwha
Ashley Ahearn fell in love with the Elwha River just about the moment that she quite literally fell in it.
Last summer, the reporter for Seattle NPR Member Station KUOW headed out with a group of scientists to explore the river in the Olympic Peninsula in Washington.
Just after putting on hip waders and stepping into the three-foot deep river, Ahearn writes in her reporter's notebook account, she lost her footing on a slippery rock and quickly found herself soaked through right up to her microphone. She writes:
The Elwha just slapped me. She brought me to my knees, literally.

This river has been tamed for about a hundred years. Dams have girdled her and weakened her. They have stripped her of her rich sediment and constipated her natural flow patterns. They have eliminated the mighty salmon runs from all but a five-mile stretch near her mouth, denying her the nutrients and other ecosystem benefits those fish deliver.

And she'll be damned if just any cocky journalist is going to just show up and presume to understand the HALF of what she's been through; not without paying a price.

The Elwha is not a cheap date.
Luckily for us, Ahearn's first encounter with the Elwha didn't deter her from returning again and again to document and report on a big story: the removal of the Lower Elwha Dam and the Glines Canyon Dam on Washington's Elwha River. The demolition of these nearly-century old hydroelectric dams is the largest dam removal project ever attempted in the United States.
Ahearn's reporting, alongside the videos and photography from multimedia reporter Katie Campbell, of Seattle's public TV station KCTS 9, have created reporting so captivating that you almost forget you are learning something.
Follow the Elwha Series
"I think my role is more of an educator," Campbell says. "This is a big opportunity to teach people. An opportunity to explain and dive into stuff that is more complicated. And get people interested and excited."
The reporting partnership of Campbell and Ahearn is part of EarthFix, a public media project of Oregon Public Broadcasting, Boise State Public Radio, Idaho Public TV, KCTS 9 Seattle, KUOW Puget Sound Public Radio, Northwest Public Radio and TV, Southern Oregon Public Television and the Corporation for Public Broadcasting.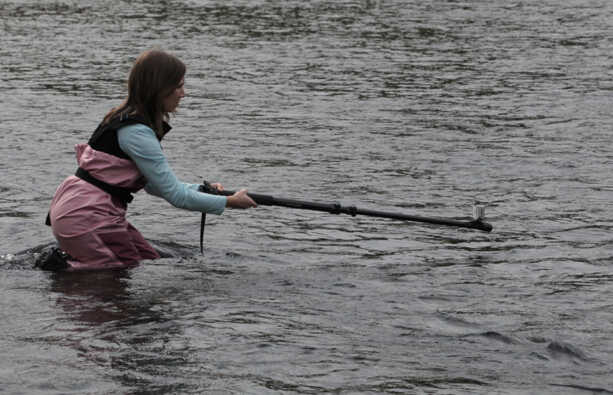 Before Ahearn came to KUOW, the station didn't have a dedicated environmental reporter. KUOW's Assistant Program Director Arvid Hokanson notes, "We have a dedicated full-time reporter based here now that isn't being pulled away to do other things. Rather [Ahearn, Campbell and all the EarthFix reporters] can really focus on the environmental coverage and in producing rich sound and rich content," Hokanson said.
Collaboration: Audio and Visual; Stations
In addition to learning about red tide, fish hatcheries and 100 years of Pacific Northwest history, Ahearn and Campbell are forging a partnership between the rich sound at the core of public radio and the much newer journalistic medium of multimedia, images and video. They are learning to tell stories in new ways, drawing on each other's strengths to create programming that offers the best of the audio and visual worlds. From the balance emerges a product much stronger than either could have contributed separately.
"My foundation in radio is key to what I do online. If I don't have great sound, the pictures don't work," Ahearn says.
And, on the other hand, Ahearn continues, "It's really exciting to see how an online presence can enrich a radio story."
Campbell notes, "It can be challenging but it's worth going through the challenge because we are coming up with stuff that we wouldn't have individually. We are finding ways to tell the story that is unique."
Just as the Elwha Dam coverage has relied on the unique skills of these two different reporters, the entire EarthFix project is relying on the collective strength of the Northwest's individual public radio and television stations.
"CPB really wanted this to be a project where public radio and TV work together" said Morgan Holm, Vice President of News & Public Affairs at Oregon Public Broadcasting, the lead station on the EarthFix project. "To learn more about each other and use online as a junction between TV and radio; a multimedia hub where all things reside."
Many of the seven stations in the EarthFix project were already doing some environmental reporting and incorporating multimedia components, Holm said. With the grant money, the stations were able to organize behind a single focus and each hired a new reporter dedicated solely to covering the environment.
"This is an interesting and vital experiment for the public media industry," said Holm. "By pooling our resources, we get more return on our dollar since we all get to benefit from the work of all the reporters."
The two-year CPB grant has provided powerful seed money that will continue funding this work into late 2012. While hopeful for continued funding from CPB after that point, the stations are already exploring multiple revenue streams that could add to the CPB support to sustain – and even expand — this important coverage for years to come.
Cultivating Audience for the Long Term
With a story as big, long, and detailed as the Elwha dam removal, every report adds another puzzle piece to the audiences' understanding of the project and its implications. But with any long-term coverage it's been important to keep the audience's interest building throughout the process.
To increase that engagement with the coverage, the reporters and stations have invited listeners to be part of a larger conversation about the story, offer their feedback on the coverage and raise questions that are still on their minds.
Both KUOW and KCTS 9 have held public listening sessions to give their audience a chance to listen to the pieces, hear from the experts and talk about the issues affecting their local environment. The viewpoints and feedback community members share in these sessions have added an additional dimension to the collaborative approach Campbell and Ahearn are already using in their multimedia reporting.
In mid-February, more than 100 people packed into KCTS 9's Science Café listening session featuring George Pess (of NOAA's Northwest Fisheries Science Center) explaining how to track the dam's effects on salmon and what they've already discovered. Pess was featured in some of Campbell and Ahearn's reporting last summer, and showed some of that video at the listening session.
At KUOW's listening session last fall, the station brought together Ahearn and about 30 others who were interested or knowledgeable about the project and some who were involved in an aspect of the dam removal. During the listening session and discussion, the group came to a larger understanding of the meaning of the dam's removal and audience questions developed more ideas for potential future reporting projects.
Ahearn and Campbell's story is continuing—even after the dam removal has been completed—to encompass a greater focus on river restoration. While working on news pieces with Ahearn, Campbell was also gathering material to produce the below 30-minute documentary, "Undamming the Elwha" airing this week on KCTS 9 and has been posted on the EarthFix station's sites.
"The process is a lot different than regular documentaries. We are building an audience along the way and developing in them an appetite for stories about the Elwha River," says Campbell.
It's work that has taken Campbell and Ahearn deep into the Elwha, and into the perspectives and people of the community, to tell a story 100 years in the making.