Get Smart with NPR's "Talk of the Nation" Live from the Aspen Ideas Festival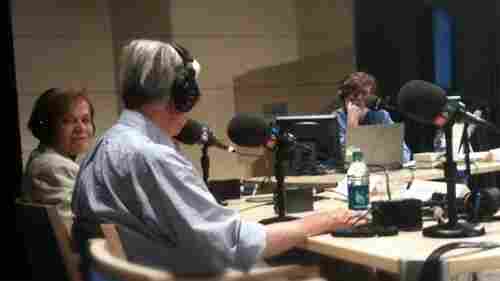 Photo by Sarah Handel/NPR
This week, Talk of the Nation host Neal Conan kicked off NPR's live coverage of the annual Aspen Ideas Festival and Aspen Environment Forum. From 12PM-2PM MT (2PM-4PM ET) Monday, June 25 through Thursday, June 28, the midday talk program is featuring live conversations with global thought leaders from the festival for the second year in a row. Busy being productive during that time? Not to worry! Audio is available every day at approximately 6 PM (ET) at NPR.org.
With a high concentration of environmental scientists currently in Aspen, Neal had the opportunity to connect listeners with the researchers who have seen evidence of climate change firsthand – loss in Arctic sea ice, an increase in extreme weather events (drought, floods, and heat waves, to name a few). Check out yesterday's conversation between Neal, biologist George Divoky, research ecologist Craig Allen, NPR Science correspondent Richard Harris, and various listeners exploring the possible effects of climate change here.
In addition to dialogues exploring the environment and conservation, Neal will chat with prominent thought leaders in social media, politics, and international affairs and connect them with listeners throughout the week. Browse some of Talk's upcoming coverage highlights, below, to find topics that appeal to you. Submit your questions by calling (800) 989-8255, emailing talk@npr.org or visiting NPR.org.
Tuesday, June 26*
Environment: Global Water Policy Project director/founder Sandra Postel and photographer Peter McBride explain why the seventh largest river in the U.S. is vital to the world's ecology.
Foreign affairs: Humorist Firoozeh Dumas, novelist Assaf Gavron and scholar/writer Reza Aslan discuss what literature teaches us about the Middle East.
Politics: Award-winning author Luis Alberto Urrea, author of "The Devil's Highway," discusses stories of immigration and the conversations sparked by the Supreme Court ruling on the Arizona immigration law.
Wednesday, June 27*
Politics: NPR Senior Washington Editor Ron Elving recaps the week. Vin Weber, former Republican member of Congress and partner of the consulting firm Mercury/Clark & Weinstock, and Anna Greenberg, senior vice president of Greenberg Quinlan Rosner, discuss what it will take to win the 2012 presidential election.
Investigations: NPR Counterterrorism correspondent Dina Temple-Raston weighs in on the story she broke about FBI investigations into Islamic extremists in the military.
Domestic policy: Kenneth Feinberg, managing partner of Feinberg Rozen, LLP, discuss his role in determining fair compensation for victims of tragedies like 9/11 and the Virginia Tech Massacre.
Natural Disasters: KRCC (southern Colorado) news director Andrea Chalfin discusses the 'epic' Colorado wildfires.
Thursday, June 28*
Foreign affairs: Robert Kagan, senior fellow in foreign policy at Brookings Institute, and Richard Pildes, professor of constitutional law at New York University School of Law, lead a discussion of America's role in the world and how democracy has become key to legitimacy for modern societies.
Domestic policy: Mark Penn, worldwide CEO of Burson-Marsteller, discusses the results of a poll on American values.
Society and innovation: Ben Waber, president and CEO of Sociometric Solutions, and NPR's Shankar Vedantam discuss how social networks in the workplace influence happiness.
Art and inspiration: Musician/DJ Moby discusses the inspiration behind the photographs in his book "Destroyed," and his passion for photographing architecture around Los Angeles.
*Schedules subject to change. Updated June 27, 2012.