NPR's All Crafts Considered Holiday Market Returns Wednesday, 11/18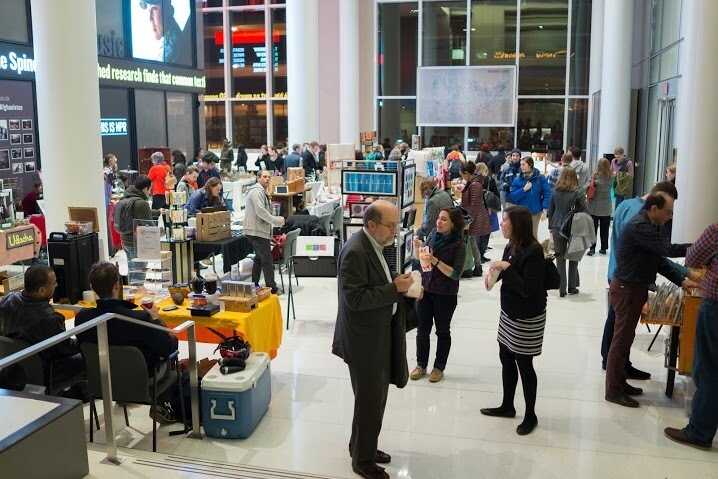 We just can't wait any longer to unleash our winter-time spirit and kick off the holiday season!
Event Details: All Crafts Considered
NPR's annual holiday market with local artisans, music, treats and tasty bevs
Wednesday, Nov. 18
3-8PM ET
NPR Headquarters (1111 North Capitol St. NE, Washington, DC 20002)
Metro to NOMA – Gallaudet U/New York Ave; Red Line
Parking: Street parking and public lots are available in the neighborhood.
Later this month, NPR will turn the lobby of our Washington, DC, headquarters into a one-day holiday bazaar. Now in its third year, All Crafts Considered brings together dozens of artisans, makers and sellers of unique and handmade products— from right around the corner in DC and as far as New York and New England —for a festive afternoon of retail therapy and holiday cheer.
Swing by our building in NoMa on Wednesday, November 18, between 3 and 8PM ET for some holiday cheer and local goods.
The Commons, NPR's fan shop, will also be open, offering an array of great gift ideas for public radio fans of all ages!
We'll continue updating the list of vendors below, and post updates and previews of the handcrafted merch using #AllCraftsConsidered on social media.
Artologica
Auggie Froggy (+Afro Baby)
Beautiful Naked (+Near Life Soap)
C Farrell Johnson Fine Arts, LLC
Cedar + Fawn
Chocotenango
Citizen Cook
City by the Sea Ceramics
Cristina Debernardi
Dear Coco Chocolate
Eileen Egan Pottery
Elizabeth Graeber ILLUSTRATION
fawn
Fearless Threads
FuzzyMug
Handmade Habitat
Herban Lifestyle
Hilary Hachey
Goodloe Byron
jennyjen42
Julia Walther Handmade Pottery
Lorrie Rudin
Marcella Kriebel Art + Illustration
Marcelle Fozard
Michael Pappas
Model Citizen Press
Moonlight Bindery
Mr Ricardo (+Alchemy)
Native Swell
Open Eyes Press
PAX Beauty
Peace, Baby! Batiks
Poppi
Priya Means Love
Pure chocolate by jinji
Rachel Pfeffer Designs
Rockin' Lizard Soap Company
Ruth M. Nur
Scarvelous
Stitch & Rivet
The Butterfly Babe
The Secret Jewelry Garden
The Terrarium Bar
Udacha
Vintagebrook
Wood Art for Living
Woolgathering
Yinibini Baby
Yummy & Company
Zooguu
Photos from #AllCraftsConsidered 2014