Faces Of NPR: Malaka Gharib
Faces Of NPR is a weekly feature that showcases the people behind NPR, from the voices you hear every day on the radio to the ones who work outside of the recording studio. You'll find out about what they do and what they're inspired by on the daily. This week, we're featuring Malaka Gharib of Goats and Soda, NPR's global health and development blog.
The Basics:
Name: Malaka Gharib

Twitter Handle: @malakagharib

Job Title: Deputy editor and digital strategist, Goats and Soda

Where You're From: Cerritos, California
An Inside Look:
You're the Deputy Editor and Digital Strategist of Goats and Soda. Tell us about the blog. What do you love about it?
Our blog focuses on the challenges that affect the world's poorest people—like human trafficking, menstrual taboos and the Zika epidemic—and solutions that can help lift them out of poverty. They're often under-reported stories, so our job is to get them out to the masses. That's precisely why I love it.
What does your average day look like?
In the morning, I read through the news, blogs and Twitter to see if there's anything that should be on our blog: a new HIV/AIDS report, an inspirational woman activist coming to town, a new technology that's helping farmers, etc. Then at 9:30 a.m., our team meets to talk over the stories for the day. That usually helps me figure out my priorities: Maybe I have to edit a freelancer's story first or finish reporting or writing my own story.
Another important part of my job is managing Goats and Soda's digital strategy. That means running our social media accounts, pulling together metrics for team reports or creating digital strategies for upcoming blog series.
At lunch, I like to read the Dear Prudence column on Slate.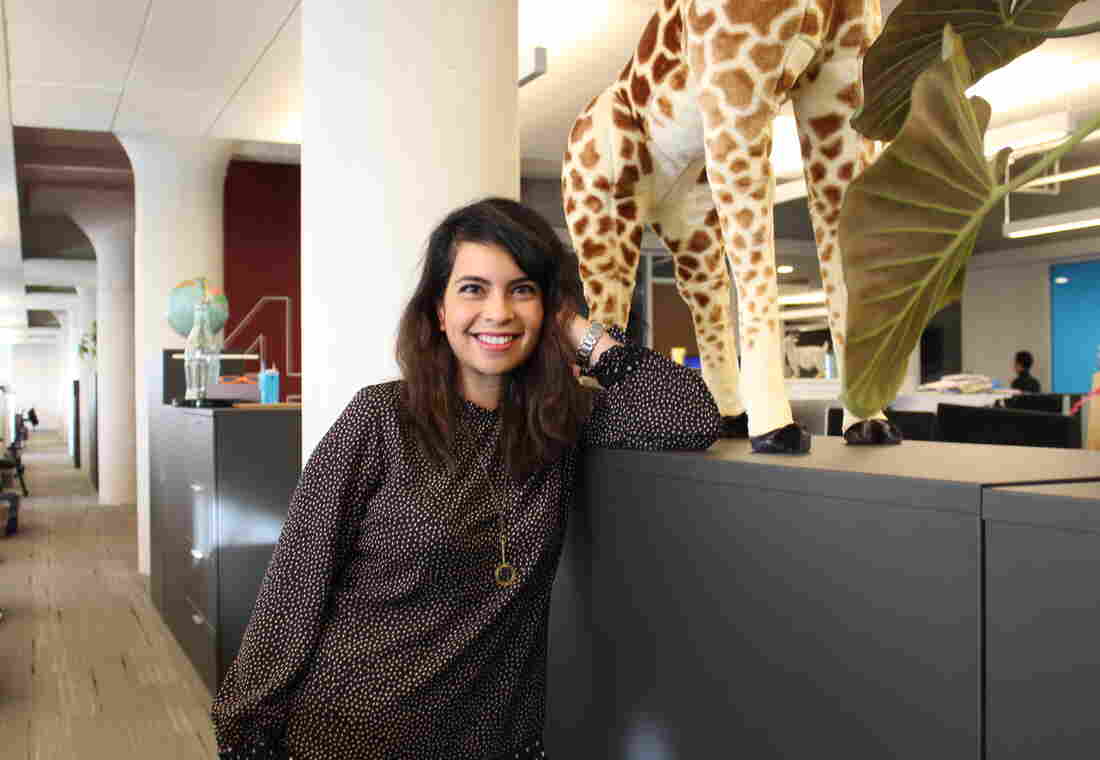 How did you get started at NPR?
I studied journalism at Syracuse University as an undergrad. My career in Washington started off at Al Jazeera English, where I was a producer on the news desk. After that, I ran social media and the blog for ONE, a global advocacy group that fights global poverty, founded by Bono of U2. Then I moved on to Malala Fund, Nobel Peace Prize winner Malala Yousafzai's education charity, as the head of their digital communications team.
My role in those two jobs was to basically explain difficult global health and development concepts—for example, how government transparency can increase people's income—in creative and catchy ways. But I wanted to do that on a much bigger scale. And I wanted to learn the discipline of reporting and the art of storytelling from the best journalists around. So that's what led me to NPR Goats and Soda.
What's your favorite #nprlife moment?
For a little while, L.A. Johnson on the Ed team hosted a monthly art club at NPR. At one of them, she gathered a few of us on the roof deck of the building and we sculpted little figurines out of clay. Only at NPR!
What are some of the coolest stories that you've worked on?
The story I wrote about Omran Daqneesh, the little boy in Aleppo whose photo, after he was rescued from an air strike. That experience taught me the true power of journalism. People sent me messages telling me that the story inspired them to take action to support Syrian refugees. One reader, a mother from California, was so moved that she wrote a letter to President Obama. We published her message to our team on the blog.
What's on your desk?
A tiny, cat-shaped vial containing lotion, an eraser shaped like a milk carton, two giant palm trees, a shoebox diorama of a kitchen, and a glue gun.
What are you inspired by right now?
Issa Rae's HBO show, Insecure, along with the amazing soundtrack (I really love the song "Desiree" by Blood Orange). I'm also watching The Crown on Netflix. I have to pause it every five minutes to Google some historical fact about Elizabeth II. It takes me forever to finish an episode. I just started following Bana Alabed on Twitter. She's a 7-year-old girl who is documenting her life in Aleppo. Every day she is unsure whether she'll make it through alive, but she's still hopeful.
Tell us about what you like to do outside of work!
I make cartoons, like this one about used books, and I run a magical little zine called The Runcible Spoon, about food and fantasy. I set up some creative events around the city, like a Filipino food pop-up and DC's first-ever art book fair. I'm also into Korean pop music. My favorite group is 2PM.