Faces Of NPR: Ashley Messenger
Faces Of NPR is a weekly feature that showcases the people behind NPR, from the voices you hear every day on the radio to the ones who work outside of the recording studio. You'll find out about what they do and what they're inspired by on the daily. This week's post features Senior Associate General Counsel, Ashley Messenger.
The Basics:
Name: Ashley Messenger

Twitter Handle: @ashmessesq

Job Title: Senior Associate General Counsel

Where You're From: I spent most of my childhood in Chelmsford, MA & most of my adult life before moving to the D.C. area in Albuquerque, NM.
An Inside Look:
You're a Senior Associate General Counsel at NPR. What does that mean?
Mostly it means I'm a lawyer who has been around long enough to be called "senior." But, really, my actual job entails working on content-related legal issues, such as reviewing stories or answering questions for the newsroom, helping the music team clear rights for videos, or reviewing permissions agreements when we use other people's content.
How did you get started here? Or what advice do you have for someone who wants a job like yours?
An editor I worked with at another company recommended me to the then-General Counsel (Joyce Slocum) at a time when NPR was considering hiring a lawyer with a lot of experience helping investigative reporters. My particular background with investigative reporting and visual materials, as well as radio experience, happened to be a really good fit for what the legal department was looking for.
What's your favorite #nprlife moment?
I am always impressed with the random acts of creativity — the ways people decorate their cubicles, Tumblrs on mugs or turtlenecks, spontaneous photos of fun moments, etc.
What are some cool things you've worked on?
In all honesty, I think pretty much everything I get to do is tangentially cool insofar as I am helping all the talented people in this company make great content. There are innumerable times I've answered some small question for someone who is creating something awesome (like Adam Cole's video about whether David Bowie could walk to the moon in his lifetime, or several reports that have won journalism awards). And I think the work of the NPR Music team (SXSW videos, coverage of Newport Folk Festival, or Tiny Desk concerts, for example) is very cool, and I do a lot of the paperwork to clear the rights we need to do those. I also helped create the Ethics Handbook, which was a lot of work but a very valuable exercise.
What got you interested in media law in particular?
I went to law school because I wanted to be David Bowie's lawyer, and also because I was a philosophy major, and philosopher jobs are hard to find. I started working in music, representing bands, but I discovered that I really didn't like the work as much as I thought I would. Then, by coincidence, I met one of the guys who founded The Onion, and he was starting an alt-weekly in Albuquerque. He needed a lawyer, and the next thing I knew, I was working for him. I had always been interested in First Amendment issues, especially libel law, and quickly came to love working with the journalists at the paper. I then, through a series of coincidences, ended up hosting a commercial radio talk show, and learned a lot about the actual work of creating a show. After several years, I decided to move to D.C. specifically to practice media law. Working at NPR has been particularly great, because it combines all my experience: music, journalism, and radio.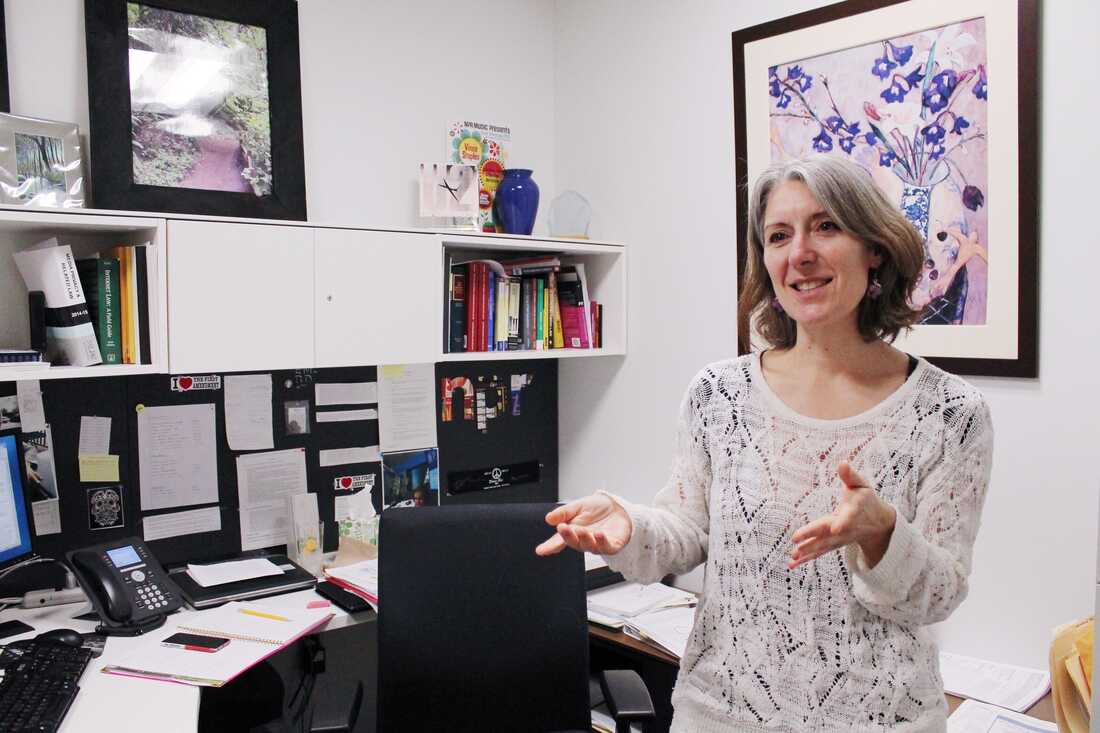 What are you inspired by right now?
I'm inspired by everything I see in the world, all the people, all the events, because what I see is the constant unfolding of the human condition, for good and for bad, and how we, individually and collectively, respond to what it's like to be human and to live the life we have. I pay a lot of attention to everything and listen to what everyone has to say and try to step back and see the big picture. The fact that I am not omniscient and will always be able to learn and understand more the more I pay attention always keeps me inspired.
Favorite places in Washington D.C.?
Jefferson Memorial, East Wing of the National Gallery of Art, Chaia
What's on your desk?
Way too much paper.
Favorite Tiny Desk?
What do you love about public radio?
Two things: (1) because it's noncommercial, it can focus on things based on quality rather than profit, and (2) I love that, overall, the system is very independent, locally owned and operated, and offers a wide range of programming.