Brick By Brick: 'It has always been a way for me to tell stories.'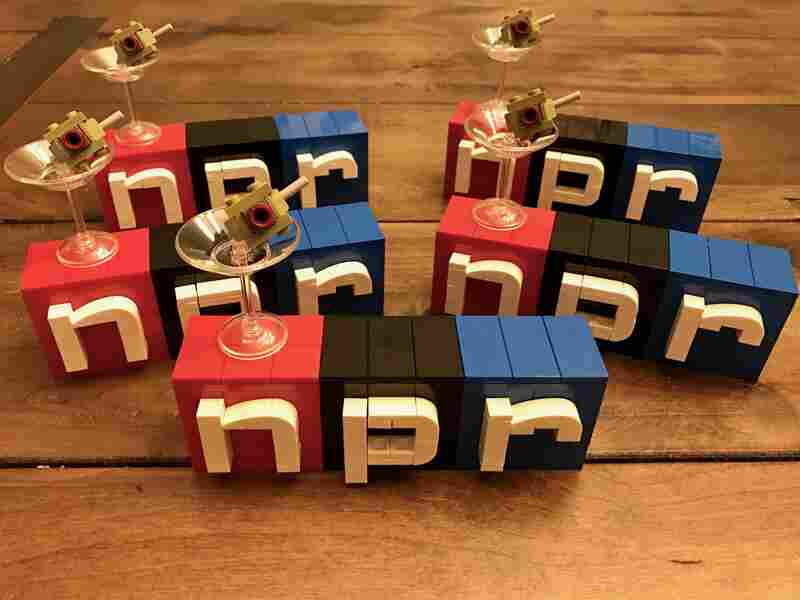 Dave Kaleta/Courtesy of Dave Kaleta
Dave Kaleta grew up in Chicago. Local NPR Member station WBEZ was a constant soundtrack at home and during car rides with his parents. He still remembers loving the 1980s Star Wars radio-drama. Among intergalactic radio stories, he also loved playing with LEGO bricks.
He was so fascinated by the iconic multicolored bricks that as he grew up, he kept tinkering with them to create complex sculptures and vignettes. It was only a matter of time before his love for both NPR and LEGO collided.
NPR Extra caught up with Kaleta as he and his wife got ready to attend the first Chicago live-taping of NPR's Pop Culture Happy Hour podcast.
How were you introduced to NPR?
Growing up in Chicago, I have clear memories of my parents listening to WBEZ in the car and at home - which was NOT what I wanted to listen to! But I do remember loving the radio serials that they rebroadcast like The Cinnamon Bear during the holidays, and of course the Star Wars original radio drama with Brock Peters as Darth Vader.
My parents listened to a lot of Prairie Home Companion and Car Talk, both of which were lost on me at the time. As an adult I started to get hooked by listening to Greg [Kot] and Jim [DeRogatis] on Sound Opinions when it was on in the late evenings. Through Sound Opinions, I discovered all the Saturday morning programs and before I knew it, every radio was tuned to 91.5.
What do you think makes NPR special?
For one, the history of public radio makes it unique. How many people have similar stories to mine, listening to shows as kids and then getting to understand the world through so many different voices? I find it to be the voice of the people and it exposes me to so much more just by waiting to hear what the next story will be.
If you could host an NPR podcast, what would it be about?
Most of the kids in my kindergarten class know I love to build with LEGO bricks, but they don't believe me when I say that I have more bricks than they do. Wouldn't it be great to find out all the other hidden passions of teachers?
The Secret Lives of Teachers (probably already an episode of This American Life); you could talk to the students about what they think the teachers are like outside of school and then find out the real stories behind them. I think it would be equally compelling whether you were talking to grade school kids or high school students.
What drew you to working with LEGO as a creative medium?
I never really stopped playing with LEGO bricks. When I was growing up, everyone saw my buildings and said I should be an architect. I ended up dropping out of my school's architecture program and following my parents into education. Through it all, I kept building. It has always been a way for me to tell stories. LEGO is such a great material because it's designed to be reused. Once you're done with a story, you can use the same materials to tell something completely different.
Tell us about your process for brainstorming and building your sculptures.
When I first started to pursue LEGO as a medium, I mostly told the stories of others. But now I find it more interesting to tell my own story. I still dabble in commissions and pop-culture builds, but my real passion is in my auto-biographical build series. I just find moments in my life that are important and do my best to recreate them in a way that tells my story.
What inspired you to make a LEGO sculpture of Peter Sagal and Carl Kasell? What was it like meeting them backstage?
After listening to Wait Wait... Don't Tell Me! for years, I finally applied to be a contestant. I signed up for the limerick challenge because I thought it would be the easiest (it's a lot tougher than you think). Peter Sagal and I talked a little about LEGO, but it didn't make it to air. I wrote Peter and the producers a thank you note offering to build them a little something. It turns out Peter is a fan of LEGO and had seen one of my more famous pieces at a local show. I had just started dating my now wife, and he invited us to a taping (great way to impress a girl). We brainstormed ideas of what to build for them and ended up with two Cube Dudes (a popular LEGO fad at the time). Peter invited us backstage and though Carl seemed initially flummoxed, he ended up gushing over his figure. I guess he really did like it because a picture of it ended up in his memoir. Peter and I still keep in touch and every year he tries to make it out to our big LEGO show if he's in town.
How long did it take you to work on the LEGO sculptures for the Pop Culture Happy Hour crew?
My wife introduced me to Pop Culture Happy Hour by saying, "I think these guys could be your new best friends." It's one of my go-to podcasts that I listen to while building. We were so excited to hear that they were coming to Chicago for a live-taping. I love building things for people as gifts, particularly those who inspire me. I had a grand idea of personalized builds for each panelist, but my more sensible, art director wife, helped narrow the focus to this more iconic design. I had to special order some of the parts for the martini glass, but it only took two evenings to get these builds done.
Care to share any new sculptures you're working on? Any NPR-themed ones coming up?
I have a few more builds in my auto biographical series in the works. And if anyone wants to invite me to their podcast taping, I'm always happy to build something new!
---
Dave Kaleta is a kindergarten teacher in Chicago, IL. Outside of teaching young children, Kaleta has been using LEGO for 30 years to build just about everything. At his home studio, he creates works of art and works with students who are passionate about becoming LEGO artists themselves.