Faces Of NPR: Sohail Anwar
Faces Of NPR is a weekly feature that showcases the people behind NPR, from the voices you hear every day on the radio to the ones who work outside of the recording studio. You'll find out about what they do and what they're inspired by on the daily. This week's post features NPR's Director of IT Operations, Sohail Anwar.
The Basics:
Name: Sohail Anwar

Twitter Handle: I don't use Twitter

Job Title: Director, IT Operations

Where You're From: Pakistan
An Inside Look:
You're the Director of IT Operations. What does that mean?
I provide oversight to the IT Operations team. My team is responsible for providing technology support to all NPR staff. I have a great team, and we support all the back-end systems such as network, email, servers and storage. I also provide oversight for any Cybersecurity needs at NPR.
How did you get started here? What advice do you have for someone who wants a job like yours?
I started at NPR about 8 years ago. Prior to that, I also worked at AOL for 4 years.
My advice to anyone wanting to start in IT field is that it is a great career, but it does require lot of dedication. There is constant learning, and you have to keep up with ever changing technology. Overall, it is a fun and very satisfying career.
What's your favorite #nprlife moment?
I was on All Things Considered last week which was pretty cool. Also, during a trip to NPR West, I met Sir Michael Caine.
What are some cool things you've worked on?
I was part of a great team that worked on moving us from 635 Mass Ave. to 1111 North Capitol Street. It is also exciting to be part of some historic events such as political conventions, presidential inaugurations, etc.
Favorite podcast?
What's on your desk?
I am a diehard Redskins fan so I have some Redskins memorabilia. I love to travel and have visited over 20 countries so far. I have some picture saved on my picture frame.
Favorite Tiny Desk?
I don't go to many of these but for some reason Weird Al Yankovic sticks in my head. I guess he is the only one I could specifically remember.
Favorite places in Washington D.C.?
Driving across Potomac River on the George Washington Parkway. It is great to see it at various times of the year. For example, when the water is covered by fog or completely frozen.
First thing you do when you get to the office?
We do lot of IT Systems Maintenance overnight. I like to make sure that everything went as expected, and there are no lingering issues that needs to be addressed.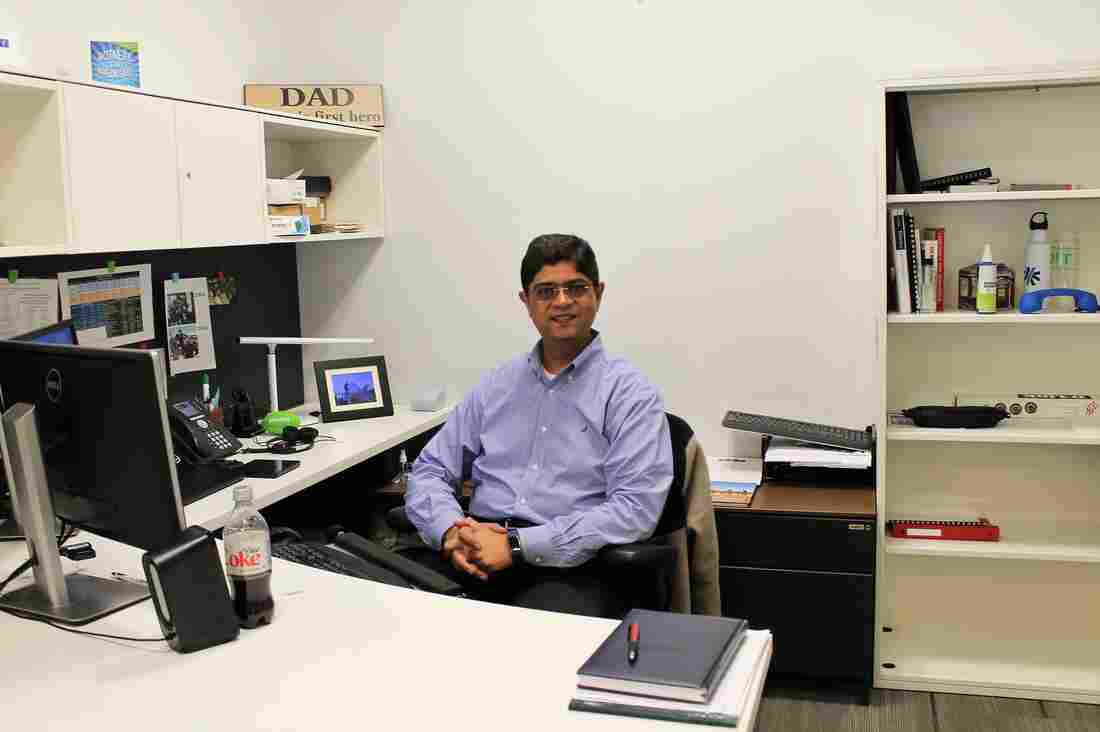 What is your favorite piece of technology?
I get excited by lot of back-end technology. There are some interesting Cybersecurity tools that I am working with these days.
What do you love about public radio?
I have always been an NPR fan, even before I starting working here. You get to work with some very smart and talented people. I love it when you tell someone that you work at NPR, and they say "That is so cool."