Preserving The Past
Members of the NPR Research, Archives & Data Strategy team (RAD) are product owners, taxonomists, researchers, archivists, trainers and developers. RAD staff is embedded in NPR's newsroom – they literally sit in and amongst the reporters and news desks. In 2015, RAD embarked on a new project to digitize and preserve NPR's physical audio archive.
NPR Extra talked to RAD Audio Reformatting Project Lead Will Chase and Digitization Specialist Susie Cummings who are working to save this important history for the future.
Walk me through the digitization project.
Susie Cummings: We have been saving our stories since the very beginning! NPR established an archive in 1972 to provide for the preservation of all NPR programs. The archive is used by current NPR staffers to enrich and inform today's stories heard on air and online, as well as academic researchers, educators and external producers. It's open to the public through partnerships with the Library of Congress and the University of Maryland.
Will Chase: NPR's vast audio archive includes 120,000 hours of broadcasts stored on physical media that date back to NPR's first broadcast in 1971. These historic recordings are at risk of being lost because of a few factors: physical degradation, technical obsolescence, and the ever-narrowing window of opportunity to preserve them in a more stable format. Our goal is to make that content digitally accessible for the long-term.
How many people are working on this team? What does the lab look like?
WC: In addition to me, the core team currently includes digitization specialists Susie Cummings, Brin Winterbottom, Nicolette Khan, and historian Julie Rogers. We also host interns who help with project work each semester. Beyond the core team, the rest of the RAD team contributes through strategic planning and outreach via social media, marketing, and training. RAD's Olympus Team ensures that the audio is searchable and discoverable in our homegrown database, Artemis. Outside of the RAD team, electronics engineer Joe Mills maintains our equipment for us. We also work closely with Digital Media colleagues Shain Miley and Vick Krishnaswamy on managing file storage and automation scripts.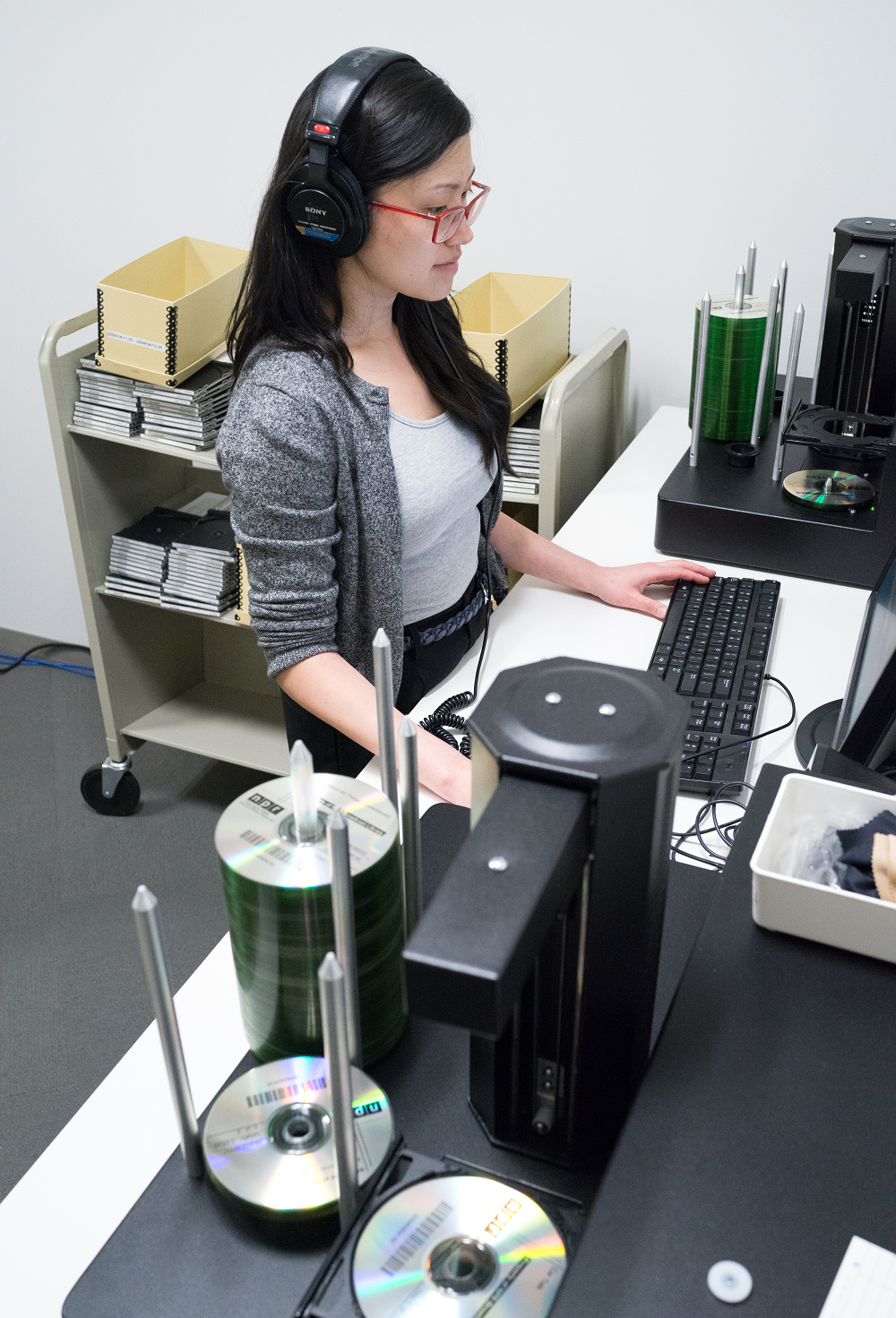 SC: We have established four reformatting lab spaces in NPR headquarters. We use the media collection room as a prep and quality control area for tapes. There are two lab-grade ovens in an all-purpose dubbing room for treating tapes with sticky-shed syndrome. Located around the corner from where Tiny Desk concerts are performed, our tape reformatting lab is filled with Studer open reel tape machines, allowing us to digitize as many as eight reels simultaneously.
On the seventh floor, we have a CD reformatting lab equipped with four CD-ripping robots.
How many reels are you working with? How many hours of audio is that?
WC: We are digitizing broadcast reels with content from shows that aired between 1971 and 1983: about 18,000 hours of NPR's flagship programs including All Things Considered and Morning Edition as well as Congressional hearings and special programming. There are also more than 60,000 hours of CD-Rs to reformat. The CDs contain program material from that aired between 1987 and 2001, and was previously transferred from tapes.
SC: For those who are not familiar with analog media, it's worth noting that a one-hour episode of Weekend All Things Considered will take one hour to play back for digitization; that is, we reformat it in real time. In comparison to our CDs, our tapes also require more inspection, special care and handling. In comparison, about 17 episodes housed on CDs can be reformatted, or ripped, in one hour. If all goes well, we can digitize about 24 episodes of All Things Considered in one day. Ripping CDs using the four robots results in about eight times more reformatted audio in the same amount of time.
What's the value of preserving this audio?
WC: We can look at value of preserving in a few different ways: production value, research value, and business value. From a production standpoint, having our complete audio archive digitally accessible to the newsroom means reporters, hosts, and producers have a unique resource to use to enrich their audio stories. NPR storytellers and listeners know hearing original source material from a given place in time provides an experience unlike simply reading about it. One example: the first broadcast of All Things Considered from 1971 featured 20 minutes of audio from a Vietnam War protest, putting the listener in the midst of the chaos happening in Washington, D.C. NPR's archive is a resource for scholarly research. It contains primary source material and voices of newsmakers heard over the last 46 years. We were successful in having this first episode added to the Library of Congress's National Recording Registry. Lastly, preserving the audio archive digitally is of great business value to NPR in that we have the opportunity to repackage, reuse, and license more material. Another way to think about the value of preserving NPR's audio archive is in terms of the cost of inaction: NPR already invests much of its human and financial resources in the story lifecycle. What if that priceless content was lost over time due to physical degradation and technical obsolescence?
SC: Sound recordings are actually very young in the grand scheme of recorded information, but they face more obstacles in preservation. In comparison to documents, archival audio has to be unlocked - freed from its physical carrier - before we can access the information. With documents and prints, in most cases we can look at the object and identify more information beyond whether it is a piece of paper or a photo. When we look at a tape, we can say with confidence that it contains magnetic media, but beyond that the rest is a mystery. We can't analyze what is on them without listening to them, and we may only have one opportunity to play back the audio.
As we digitize audio, we are accessing content that has not been touched for decades. Each audio object is handled with care and digitized with the goal of preservation and access in perpetuity. Audio is a historical record, just like a document.
Audio is truly a powerful way to share and ingest information. It brings the listener into the moment through voice and sound elements, like soundscapes. That moment can be from today or even be from 40 years ago. In one episode of All Things Considered from the 1970s, the listener can be transported to that particular day in history. You can listen to the episode from May 3, 1977, and hear everything from a workers' strike in Japan to welfare reform in the United States to an interview about synthesizer music. All things are actually considered!
How can all of this material be potentially reused?
WC: NPR's broadcast archive is already used on a regular basis by our newsroom colleagues and by third parties who license our content. We can expand the scale of that reuse as well as look to new opportunities with NPR One and podcasting, as well as collaborations with research databases and educational companies.
Hear the archive in action
Books
'The Handmaid's Tale' Is Among A Resurgence Of Dystopian Literature
'The Handmaid's Tale' Is Among A Resurgence Of Dystopian Literature
SC: Reformatting NPR's archival audio gives our hosts and reporters an opportunity to reconnect with their past work that has relevance to today. Recently, Lynn Neary asked me about the year and shows that the RAD Audio Reformatting team was processing. During the conversation, she mentioned that she was curious about an interview that she conducted with Margaret Atwood in the 1980s. I was able to connect her with the interview, and she included a clip in her interview last month on Weekend Edition Sunday.
What's the most surprising audio you've stumbled across during this process?
SC: Every day in the lab, we hear interesting audio as we travel through time in the NPR archive. One of the perks of this job is hearing history unfold as we transfer audio from tape and CD to WAV files. Currently, we are reformatting shows from 1987 and are deep into the Iran-Contra hearings. While listening to this audio for quality, I found the sounds of the gavel, voices, to be very heavy. Fortunately as a counterbalance, I came across a Morning Edition piece about the recording of The Beatles' Sgt. Pepper's Lonely Hearts Club Band, which had been released 20 years earlier. It included an interview with Geoff Emerick, the recording engineer. Emerick said, "Mixing sounds is painting a picture with sounds." My heart exploded! What a beautiful statement! So while there may be coverage, it has been wonderful to hear NPR's commitment to the arts and popular culture, as well as the news of the day. (And happy 50th birthday to Sgt. Pepper!)