Encouraging Everyone To Listen To 'Morning Edition' With A New Ad Campaign
What's your morning routine like? Do you start each day fully awake to the world around you?
Did you know you can fire up a smart speaker and share your morning brew with Rachel Martin? Or that David Greene makes for a terrific co-pilot when driving to work? And how about Steve Inskeep and your local hosts being just a few taps away on your phone?
For decades, listeners have trusted Morning Edition's signature mix of local, national, and international reporting to start their day. What better way to wake up than with journalism that engages your senses, challenges you, and meets you where you are. As 2018 kicks off, we are encouraging new listeners to arise to a new morning routine and be "Fully Awake" for each day.
Today we launch the first phase of a new ad campaign to introduce Morning Edition to new audiences in four markets across the country — Pittsburgh, Phoenix, Salt Lake City, and Austin. We aim to inspire current listeners to tune-in more and welcome new people to experience the trusted, timely, emotionally-compelling journalism available each weekday on NPR's Morning Edition.
Here are some details about this rousing new campaign.
Why? We're helping more people discover the #1 news radio program in the country.
NPR reaches 99 million people each month. With these new ads we hope to grow that audience. Despite a cluttered and busy media landscape, we want you to know where to find NPR News: on the radio, in your car, on your smart speaker, on your phone, and online. We also want to encourage new people to experience NPR and know what it is like to wake up to Morning Edition's combination of local, national and international news. With Morning Edition, people will feel ready to face the day, fully awake to the world around us.
How? This is an integrated, multimedia campaign created in partnership with four NPR Member stations.
Our Member stations around the country make Morning Edition possible. Every day your NPR Member station brings you fresh new NPR stories, and together, we create a powerful combination of local and national reporting that brings the community and the world closer to home. Finding new ways to help Member stations grow their audience and find new listeners is an important goal of this campaign. After the pilot concludes in the Spring, we'll look forward to assessing its success and hopefully scaling the campaign into more cities later this year."Fully Awake" includes two :30 and :15 second brand spots: "Wake Up" and "Listen" (you will recognize some familiar voices), as well as digital video, online banner campaigns and outdoor banners in select markets. The "Wake Up" spot will air first and the second spot "Listen," will launch later this month. We worked with talented muralist "Jetsonorama" - jetsonorama – sans drama - whose incredible art you will be able to see in cityscapes featured in "Listen."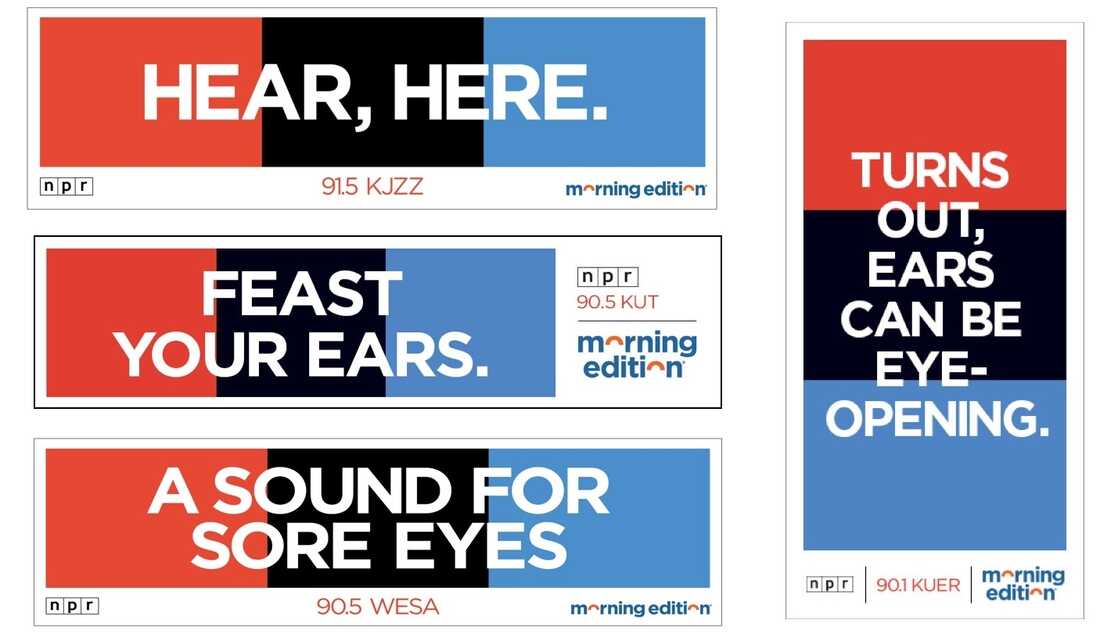 The "Wake Up" spot will air first and the second spot "Listen," will launch later this month. We worked with talented muralist "Jetsonorama" - jetsonorama – sans drama - whose incredible art you will be able to see in cityscapes featured in "Listen."
Who? NPR's marketing team linked up with an award-winning ad agency and its legendary creative genius.
The "Fully Awake" campaign was created by MAL\FOR GOOD, an LA-based social impact advertising agency dedicated to "brands that want to make a difference." The agency was founded and is chaired by creative visionary Lee Clow. He's done landmark work for some of the world's most famous brands, and we were thrilled when he expressed interest in working with NPR. "It's a pleasure for MAL\FOR GOOD to be able to present this new brand campaign for NPR's Morning Edition," said Lee Clow, Chairman and Founder of MAL\FOR GOOD. "MFG's core beliefs include compassion, courage and integrity, which align very well with the trusted brand of NPR journalism."
Where? We are piloting the ad campaign in four cities, in partnership with four Member stations.
Joining us in the pilot campaign are KUT in Austin, KJZZ in Phoenix, WESA in Pittsburgh, and KUER in Salt Lake City. We are thrilled to work with these stations and are grateful they are joining us in this audience-growing effort. These four stations represent a geographically-diverse mix of top 50 markets in cities with affordable media markets and an opportunity to grow Morning Edition audience. The stations will run "Fully Awake" messages in their markets through March 28, with a short break during the Olympics.
Here's what some of our Member station partners had to say about the opportunity:
"Brand awareness can't be assumed" says Maria O'Mara, General Manager of KUER in Salt Lake City. "I'm excited that this campaign will be reaching people who've maybe never heard of Morning Edition."

"After recent audience gains, it would be easy for public radio to take its foot off the gas," adds John Sutton, General Manager of WESA in Pittsburgh. "We're thrilled NPR sees there is still potential and that partnering with Member stations to further grow their Morning Edition audiences. This is one of the best ways to keep public radio thriving."

"We are enthusiastic about the creative approach, as well and this partnership with NPR," adds Stewart Vanderwilt, General Manager of KUT in Austin. "Morning Edition starts our days with exceptional journalism and deeply-human stories from across the world and within our communities. Increasing the radio audience will benefit stations, NPR and each listener who tunes in."

"We're looking forward to the release of this new campaign," says Jon Hoban, Associate General Manager, Programming, at KJZZ in Phoenix. "The outdoor advertising and cross promotion on television will help raise the station's profile across the region. Our recent experience with other outdoor campaigns shows the strong, positive benefits on listenership."
What (can I do?): Spread the buzz
We're telling the story of how and why NPR's Morning Edition is a trusted, reliable, daily companion for news across the country and abroad. Help us continue the conversation through social media about what it means to be 'Fully Awake.' We'd love to know what you think if you see or experience parts of our campaign in your city. Tweet us at @NPRExtra or tag your images with #NPRFullyAwake.