Faces Of NPR: Wendy Johnson
Faces Of NPR is a weekly feature that showcases the people behind NPR, from the voices you hear every day on the radio to the ones who work outside of the recording studio. You'll find out about what they do and what inspires them. This week's post features NPR's Wendy Johnson.
The Basics:
Name: Wendy Johnson

Job Title: Executive Assistant

Where You're From: Madison, NJ
An Inside Look
You've held multiple roles at NPR. Could you tell us more about them?
I started at NPR in the mid-80s on "M" Street in the Distribution department. I have since worked in every building in various departments including Programming, Communications, Audience Research, Development, Diversity, and Tell Me More. I also coordinated the Kroc and Weeks Fellowships. I am currently an Executive Assistant in Content Administration with Weekend All Things Considered.
How did you get started here? What advice do you have for someone who wants a job like yours?
I saw an ad in the paper, applied, came in for an interview, and got the job. It was simple back then. Since then, I have worked in various departments as both a temporary and a regular employee. The key to getting and keeping any job is being excited about it and willing to do whatever it takes. Keep a positive attitude. Always be willing to go above and beyond what is called for.
What's on your desk?
Lots of invoices, check requests, and purple folders.
What are some of your favorite past projects?
In 2006, Stacey Foxwell, NPR's current senior director of content administration, recommended me to assist in coordinating resumes for a new show NPR was launching. I introduced myself to Michel Martin and Marie Nelson, then executive producer at NPR, and ended up working at what would later be called Tell Me More for about 5 years. It started out as a podcast, and I was even a guest on a segment titled "Ordinary Oprahs" because of my work in Africa. It was amazing to be involved with Michel Martin's Tell Me More coverage during the election of our first African-American President, Barack Obama. I also had the opportunity to meet then president-elect of Ghana, John Mahama.
One of my best memories was when Michel interviewed Queen Latifah, Morris Chestnut, Gabrielle Union, and Faizon Love, who starred in the movie Perfect Holiday. We had lots of fun that day. Working on Tell Me More was like being with family. I remember one Halloween, I cued up Michael Jackson's "Thriller" video and all of us gathered around my desk attempting to do the dance steps. We talk about our memories often.
Courtesy of Wendy Johnson
We've heard you're involved with NPR's Culture Club. Tell us a little more about that.
We are a group of NPR staffers who are working together to bring cultural awareness to all employees. We acknowledge heritage months throughout the year with celebrations of education, food, art, history and entertainment.
Black History Month is coming up. What does NPR's Culture Club have in the works?
We will have a kick-off celebration at the beginning of the month during lunch in Sound Bites, our cafeteria. It will include great food and music. We are also planning a book discussion with Patrisse Khan-Cullors, one of the founders of Black Lives Matter and the author of When They Call You A Terrorist: A Black Lives Matter Memoir. We have also scheduled an exhibit of books featuring African American authors and our annual CoCo Café where we will be saluting the American dance show Soul Train and paying tribute to our beloved coworker, Dennis Herndon, who passed away last month.
Favorite Tiny Desk?
Sharon Jones & The Dap Kings, Anthony Hamilton
What are you inspired by right now?
I am mostly inspired by people and their life stories. It is amazing to hear the struggles and obstacles that some people go through on a daily basis, yet they survive and persevere. If we all would just reach out and give a little bit back, what a different world this could be.
What do you like to do outside of work?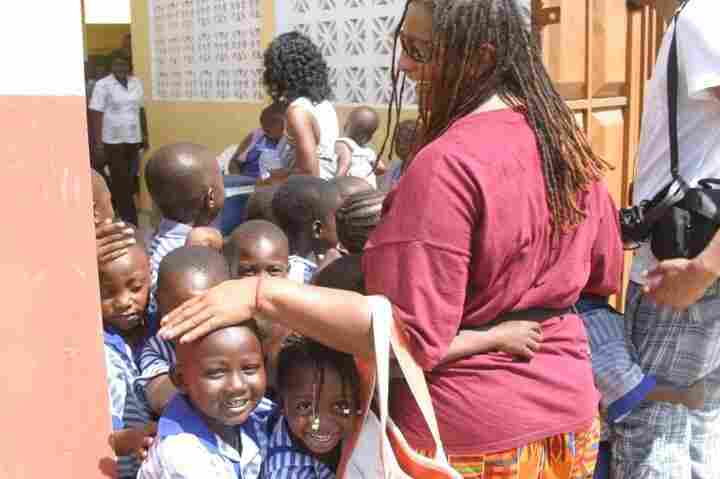 Courtesy of Wendy Johnson
I travel to Africa at least once a year. I started an organization, Age of Awareness, where I collect school supplies and other items to distribute to schools. I have mostly visited Ghana where I have about 12 schools that I support. I shipped 10 boxes of supplies to Ghana last year and went to distribute them. This year I have raised enough money to ship 10 boxes of supplies again for distribution in the fall. I have also visited schools in Kenya, Ethiopia, and Jamaica. In addition, I have provided a college and career awareness program for underrepresented middle schools here in Prince George's County, Maryland.
What is your favorite thing about working at NPR?
I enjoy working with the people. As an executive assistant, you come in contact with so many situations that include a variety of people. It's the laid back atmosphere here that has allowed me to do things like wear my "light up" shoes on Fridays.
What do like about the NPR community?
I love the work atmosphere NPR provides. The people are friendly and kind.