Faces Of NPR: Ben de la Cruz
Faces Of NPR is a weekly feature that showcases the people behind NPR, from the voices you hear every day on the radio to the ones who work outside of the recording studio. You'll find out about what they do and what inspires them. This week's post features Ben de la Cruz, a visuals editor for NPR's Science Desk.
The Basics:
Name: Ben de la Cruz

Job Title: Visuals Editor

Where You're From: Born in Manila, Raised in Baltimore

Twitter Handle: @bendelacruz
An Inside Look: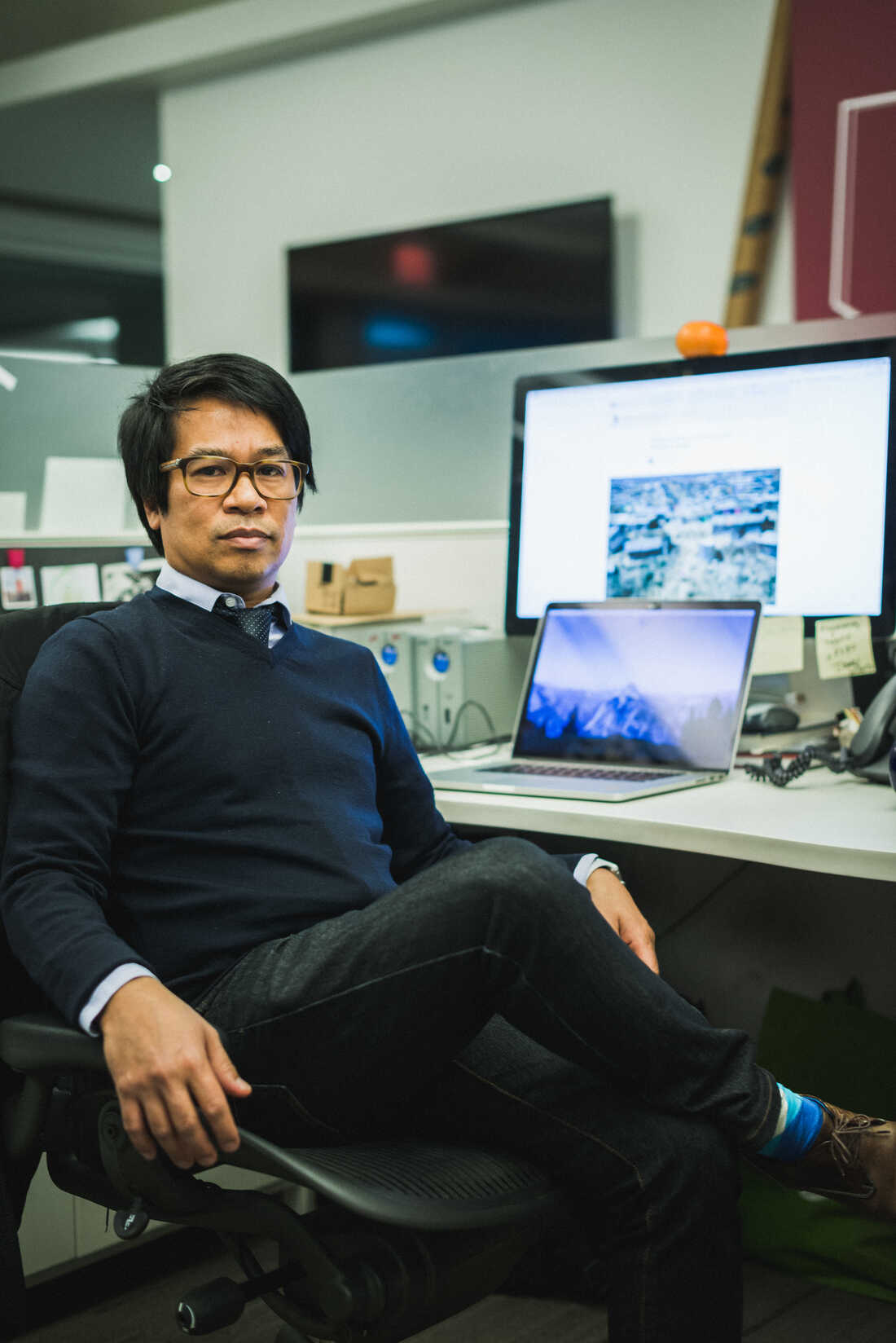 You're the visuals editor for NPR's Global Health and Development blog, Goats and Soda. What is your day-to-day like?
As a visuals editor, I get the chance on a daily basis to collaborate with amazingly talented filmmakers, animators, photographers, illustrators, reporters, and editors. Many of my collaborators are right here in the building, but I also work with freelancers from around the world. Our shared goal is to produce visually-rich, compelling content that can surprise, explain, and humanize the many serious — as well as hopeful — stories in global health and development.
How did you get started at NPR? Do you have any advice for someone who wants a job like yours?
I came to NPR more than six years ago after working for 12 years as a video journalist at The Washington Post, including serving as the head of video and multimedia. During my time there I helped cover three presidential elections, immigration and race issues, and Hurricane Katrina. Working with the investigative team, I contributed to series about illegal guns, congressional earmarks, public housing, and the mistreatment of soldiers suffering from PTSD at Walter Reed military hospital.
Congratulations on receiving awards of excellence in the Eyes of History multimedia contest sponsored by the White House News Photographers' Association for your work on the Hot Pot: A Dish, A Memory video series. What inspired you to start this project?
I was binge watching Netflix's Chef's Table and Instagram food videos last year. I loved the backstories of the chefs and the mesmerizing quality of the short Instagram videos. It got me thinking about how to create an NPR version that would meld these two qualities. After months of brainstorming with my editor Alison Richards, as well as colleagues Malaka Gharib, Rhitu Chatterjee, John Poole, and others on Goats & Soda and The Salt, we decided to focus each video on an ordinary person cooking a dish, while sharing a food memory. While we didn't conceive of the project with awards in mind, it was so gratifying that the work received recognition.
NPR is known for its audio storytelling and reporting. What's it like working in a visual capacity at NPR?
It's a challenge, but it's also fun and exciting. People know what NPR sounds like, but most probably don't know what NPR looks like. I think there are already a lot of great examples of what NPR looks like, of course. I loved the video team's coverage of the solar eclipse, as well as the Inauguration and Women's March. And I'm a big fan of Skunk Bear's science videos. But we're always evolving, adapting, and honing our visual storytelling style for new audiences and platforms.
Is there a particular image you've worked on that you're particularly proud of?
There's no particular image, but I'm proud of our team's coverage of the ebola outbreak in West Africa. It was a difficult and dangerous story to cover, but despite the challenges, our team—including our visual journalists John Poole, David Gilkey, and freelancer photographer Tommy Trenchard—brought to our audiences so many powerful stories in video, stills, audio, and text.
What are some other cool things you're working on now? Do you have favorite past projects?
First, some past favorites are:
Currently, I'm part of a team developing a new way of thinking about how we can collaborate and engage with our audience as well as photographers, filmmakers, illustrators, animators, and graphic designers to build new visual storytelling avenues on NPR's website, social media platforms, and through live events. We're really excited about these new ideas. Details to come soon.
What's on your desk?
Artwork created by my 6-year-old son, Javier.
Favorite Tiny Desk?
Pixies, because Joey Santiago is one of my favorite guitar players. I listened to Surfer Rosa on repeat for a month straight when it first came out. I bonded with Joey after the show because we were both born in the Philippines.
Favorite places in D.C.?
National Arboretum's Fern Valley and the Hirshhorn Museum.
What is your favorite food?
I have so many favorites. Sinigang with butter fish (mom's recipe); Ginataan crab (my wife Genevieve's recipe); Bo Saam (a la David Chang); Cacio e pepe (from a family trip to Rome last November); BBQ pork marinated in garlic, soy, and 7-up (my dad's recipe); and Kare Kare (Tom Cunanan's recipe).
What are you binging on right now?
Netflix's The Crown.
Do you have any guilty pleasures?
The Baltimore Orioles. Since I was a kid in B'more, I've always loved following the team. We lived a few miles from the stadium and when the game wasn't on TV, I listened to the game on the radio from our back porch. When the O's hit a home run, I could hear the sounds of the distant cheers in the summer night. Go O's!
What is your favorite thing about working at NPR?
I get to work with lots of talented people. And the Tiny Desk Concerts!