Faces Of NPR: Stacey Foxwell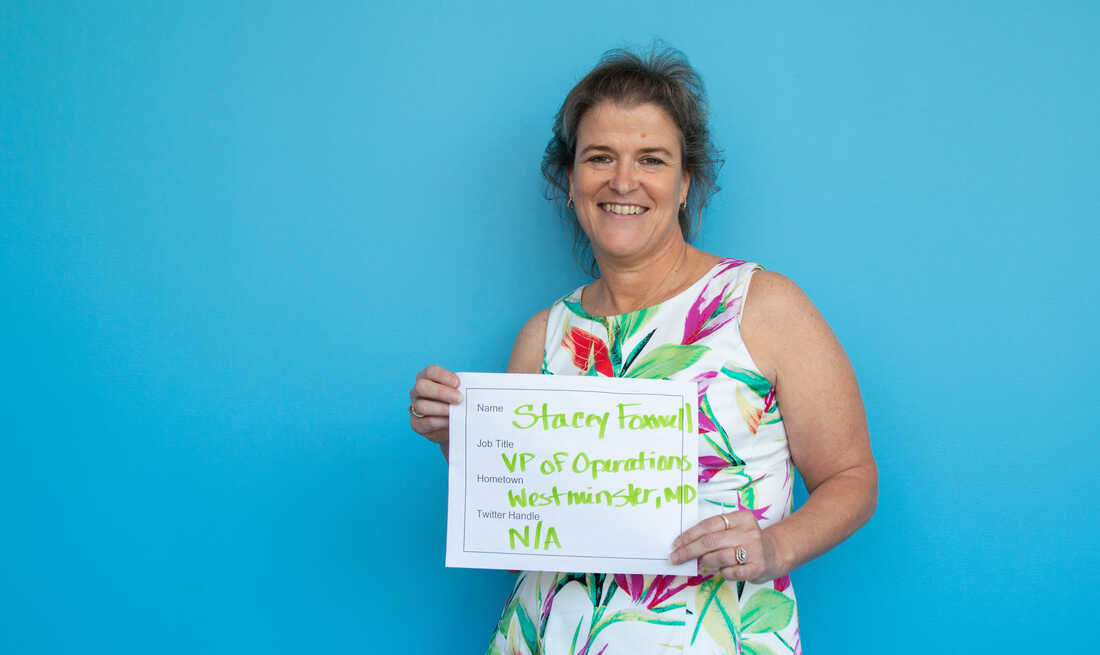 Faces Of NPR is a weekly feature that showcases the people behind NPR, from the voices you hear every day on the radio to the ones who work outside of the recording studio. You'll find out about what they do and what they're inspired by on the daily. This week's post features NPR Vice President of Operations Stacey Foxwell.
The Basics:

Name: Stacey Foxwell

Twitter Handle: You won't find me on Twitter or Facebook

Job Title: Vice President of Operations

Where You're From: Maryland, born and bred
Inside NPR:
You're the Vice President of Operations. What does that mean?
I'm so glad you asked. I get to work with many of the unsung heroes of NPR. From the Administrative Team of Executive Assistants and Office Managers who support our Senior Team and staff in DC, New York, Chicago and NPR West to the Facilities Services Team here in DC and NPR West who sort more than 250,000 pieces of mail and over 60,000 overnight packages each year along with their multitude of other duties. Then there are the Building Engineers who make sure everything works from our lights to our air conditioning and the Cleaning Staff who keep our restrooms and elevators neat and clean. Last, but certainly not least, there are the Security Staff who look out for us 24/7 to make sure that we and our visitors are safe and secure. I would encourage you to say thank you as often as you can to anyone on this team — I know it would mean a lot.
How did you get started here?
I started out as an Executive Assistant to the Senior Vice President for Programming, Jay Kernis. After I applied for the job, I called and asked who was handling the applications in the hopes that I could find a way to get my foot in the door. I was sent to Gay Williams who kindly suggested that I get in touch with Susie Julbe who was coordinating volunteers for the upcoming Public Radio Conference. I offered to come to DC to volunteer. It was amazing — I met a lot of people including Kevin Klose, our former President and CEO, who shook my hand and thanked me for volunteering. I knew then that it must be a special place to work.
What are some cool things you've worked on?
I'm very proud of my work with the Kroc Fellowship program and the This I Believe series and the Public Media Village. But I'm equally proud of some of less "public" things I've worked on, like helping temps get answers to their questions or conducting orientation sessions for all new employees where they're invited to spend a "Day in the Newsroom." Finally, I think it's pretty cool to help people develop in their current role or prepare for a new role. Whether it's hearing a former Kroc Fellow on the air or seeing an Executive Assistant take the initiative to lead a cross-departmental project, it's almost as gratifying as watching your children launch.
Thing in your new role you are most excited about doing?
I am most excited about learning new things and developing stronger relationships with staff I've known for a long time as well as building new relationships with staff I've just met. I'm also looking forward to finding ways to improve our workflow by having all these teams working together under the same umbrella. I know it sounds corny, but I'm really excited about every aspect of it.
What's on your desk?
Lots of flowers and cards and chocolates (thanks everyone), plus a very well worn Baltimore Orioles travel mug.
Favorite Tiny Desk?
Peter Frampton. My office is so close to the Tiny Desk that I can actually hear them all without moving an inch, and most of the guests go right past my door so I usually get to see them all too. But Peter Frampton stepped into my office and said hello on his way out. We started chatting about this and that, and before I knew it 15 minutes had passed. I immediately sent a text to my family to tell them that Peter Frampton was just hanging out in my office. They were amazed and asked me to send a picture. I told them I didn't want to look like a groupie so I didn't even think of asking for a picture. They still don't let me hear the end of that one.
First thing you do when you get to the office?
Go to the restroom—I have a two-hour commute—and then on to Sound Bites for my second cup of coffee.
What's your motto?
Attitude is everything!
Who has had the greatest impact on your life?
My grandmother. She raised me from the time I was a baby. She wasn't the kind of person who taught life lessons through stories; she taught them through her actions. She was tireless, working an almost full-time job and taking road trips to visit family members into her 70s. She was loving to her children and all of her 18 grandchildren. She made sure she spent exactly the same amount on each of us at Christmas so that none of us ever felt slighted. She was practical, she always lived within her means and she always had everything she ever wanted. She was happy, never complaining, always smiling—just a joy to be around. I owe everything I am to her.