Celebrate API Heritage Month With 'Its Been A Minute'
Amid the overwhelming pandemic news cycle, you may not have known that May is Asian-American and Pacific Islander Heritage Month — a time to acknowledge and share API voices and culture.
Greg DeGuirre//Getty Images
Elena Mudd/Courtesy of Penguin Random House
While it's been difficult to celebrate in person, you can wrap up the month by revisiting six of It's Been A Minute's favorite episodes featuring Asian-Americans and Pacific Islanders:
Jimmy O. Yang on 'Silicon Valley' and 'How To American'
The comedian and actor talks to Sam Sanders about his immigrant experience and making it in Hollywood, which he writes about in a new book, How To American: An Immigrant's Guide To Disappointing Your Parents. Jimmy stars as immigrant programmer Jìan-Yáng on the HBO comedy Silicon Valley.
Jia Tolentino On The Internet, Optimization And Other Late Capitalist Woes
Writer Jia Tolentino has a keen eye for processing bits of internet absurdity and telling readers what those bits say about us. The New Yorker staff writer's book, Trick Mirror, examines several different systems that impact our lives through a series of nine deeply researched essays. Tolentino and Sam discuss growing up in church, putting your life on the internet and what happens when your life becomes a quest for optimization.
Maya Erskine on 'Plus One' and 'PEN15'
Maya Erskine has come a long way from the NYU experimental theater department where she met her PEN15 co-creator Anna Konkle. Now she's the star of a new romantic comedy that turns the genre on its head. She talks to Sam about Plus One and how the second season of PEN15 might differ from the first.
John Cho And Aneesh Chaganty On 'Searching'
Amanda Edwards/Getty Images
Searching is a film of firsts. For starters, first-time director Aneesh Chaganty set out to do something he hadn't seen before. While found-footage films like The Blair Witch Project, Paranormal Activity, and Cloverfield have played with audience perception via technology, Aneesh didn't put his audience behind the lens. He put them in the screen. The action of every shot appears as if viewed through a computer or cell phone screen, bordered by familiar digital interfaces of Facetime, Facebook, chat and video widows, etc.
In most films with Asian American actors, Aneesh said, "You usually have to explain — what is the Asian hook? Like, why is this family Asian?" But in Searching, he said, "there's nothing about this film that explains it." That an actor of any race could have played the lead, John added, is precisely the point. "The fact that it doesn't have to be an Asian-American film makes me want to claim it as an Asian-American film," he said.
"Sweet birthday baby!" Greta Lee talks about her role in the critically acclaimed Netflix show Russian Doll, starring Natasha Lyonne as a woman who can't stop dying and reliving the same night. Greta tells guest-host Julia Furlan how the show was reincarnated from a failed NBC pilot, why she still struggles to avoid Asian-American stereotypes in television and what to expect from the HBO show she's developing.
Steven Yeun, A Star On Both Sides Of The Pacific, Talks Toggling Between East & West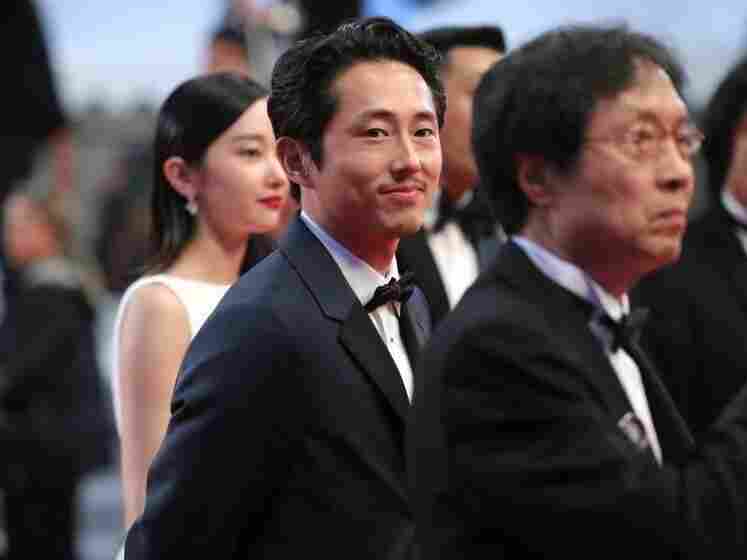 Andreas Rentz/Getty Images
U.S. audiences know Steven Yeun best for his role on AMC's The Walking Dead, which, over seven seasons, earned him internet-boyfriend status. In South Korea, he's become a big name for his work with well-known Korean auteurs, Bong Joon-ho (Okja) and Lee Chang-dong. The latter helmed Burning, which is equal parts deep character study and thriller. The film was South Korea's official submission for the foreign language category in the 2019 Academy Awards.
Movie Interviews
Steven Yeun Won't Say Whether Or Not His 'Burning' Character Is A Psychopath
Steven Yeun Won't Say Whether Or Not His 'Burning' Character Is A Psychopath