Faces of NPR: Lori Lizarraga
Faces Of NPR showcases the people behind NPR--from the voices you hear every day on the radio to the ones who work outside of the recording studio. You'll find out about what they do and what they're inspired by on the daily. Today we feature Lori Lizarraga, Co-host of Code Switch.
The Basics:
Name: Lori Lizarraga
Title: Co-Host, Code Switch
Twitter Handle: @LoriLizarraga
Where you're from: Born in Metairie, Louisiana, raised in Waxahachie, Texas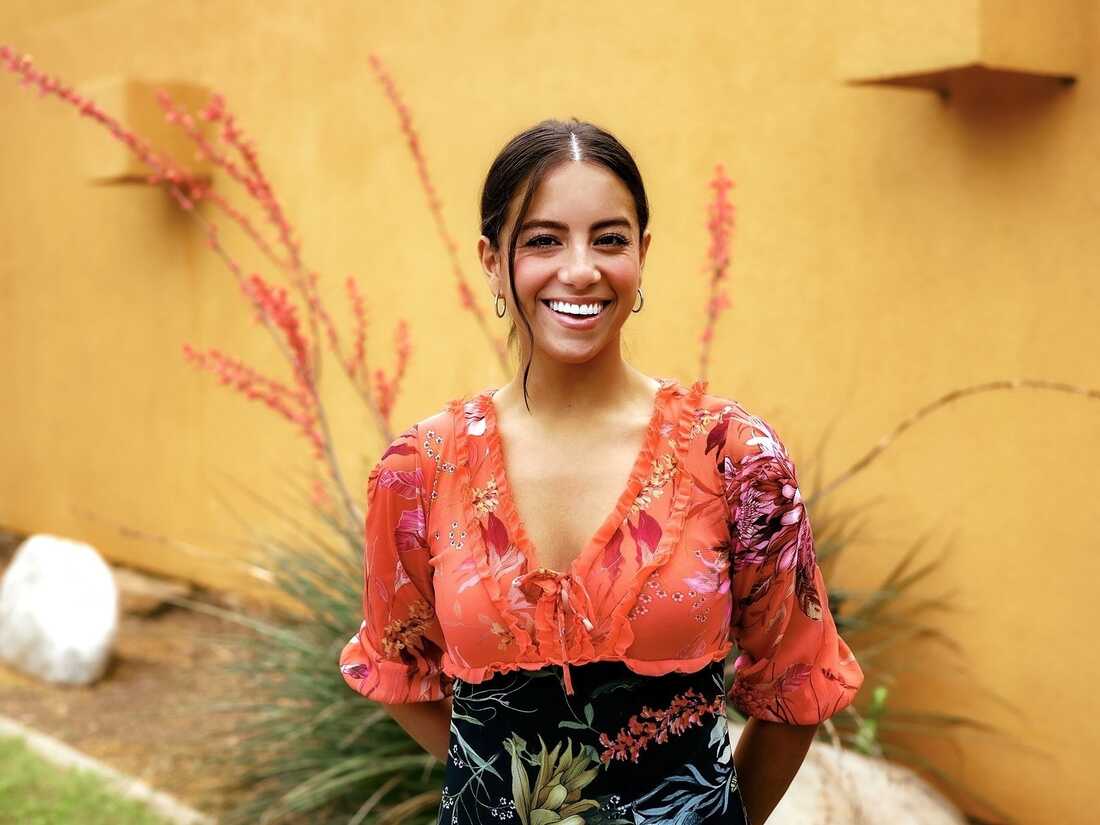 Which parts of your identity do you plan to bring to Code Switch?
Well, all the parts. For me that means my Latinidad, my heritage, my experience growing up in Texas with an Ecuadorian mother and a Mexican father. Both of their cultures, as well as the one our family cultivated amongst ourselves and our community in small town Texas. The traditions and influence of the Lizarragas have shaped really important parts of my identity, too. Anyone from a big, loud family will tell you! I'm the middle child of five. My dad is one of six. His mom, my mama Inelda, is one of 11. I'm shaped so much by my family dynamic. And the experiences that have come with being from a poor, first-generation, proud, hardworking, religious, loyal, opinionated, sometimes overbearing but always loving immigrant family. I am also an experienced reporter and journalist. I put myself through college, lived and worked in Ecuador, the only one of my siblings to ever leave Texas. I'm in the last year of my twenties. I'm an aunt and a godmother. A woman. A sister. A friend. A partner. An introverted-extrovert. A hugger! You know, there are a lot of different facets. And so there's a lot of opportunity, I hope, to bring all of those parts of me to NPR and our Code Switch listeners.
I'm looking forward to your contribution to the show. So why did you apply to be a co-host on Code Switch?
For this next full-time role, I really wanted to prioritize the two parts of my professional career that I care the most about. First, the hard-hitting , investigative journalism, accountability reporting that I love. Second, championing better and more representation, access and opportunity for Black and Brown journalists and our communities. But trying to find a job that let me marry those two skills was one dead end after another. The industry of journalism and the world of DEI were both saying, "us or them." If I wanted to be a reporter, I would have to "check my biases" at the door — sacrificing the diverse perspective that makes the work so much more valuable. If I wanted to prioritize my perspective toward the advancement of marginalized communities, I would have to be an activist, a DEI officer or run for office — sacrificing the power of holding the mic for the chance to speak into it.
And then came Code Switch. This team and the work they do was truly the first and only opportunity that I found that marries the two skills, sees the value and calls it the mission. Literally, the show description says, "It's the fearless conversations about race that you've been waiting for, hosted by journalists of color..." I'm giddy just reading that again. Because it's such a happy, hopeful dream come true to be in a position that I truly thought didn't exist. I'm so glad that it does and that I now have a chance to bring the best parts of my skills and my perspective to the stories we tell, the language we use, the conversations we elevate, the dilemmas we unpack, the struggles we illuminate and the voice we bring to this massive subject of race. I'm so proud of what's to come and I am so excited.
That's inspiring that you were able to find that intersection and to know that intersection exists. What about your journey do you think is the reason that you're here?
Absolutely all of it. I think every part of my journey and all the experiences along the way contribute to what qualifies me for this role. And I just appreciate that there are people like Steve Drummond, my new boss, who saw that value in me and all of my experiences and chose to elevate me to this role. Who I am, where I'm from, what I've been through, my experience reporting for years all over the country, as well as the value of this last year and a half in my career after turning my reporting on my experience as a journalist of color in Denver. That reporting sounded an alarm for more representation in news and helped to affect new immigration coverage standards at more than 60 TV news stations across the country.
I knew there was a lot of room for more culturally sensitive language, more representative coverage, more diversity in the newsroom and in the news. When those goals were blocked in the newsroom, I did what journalists do — I watched, I listened, I took notes, I asked questions, I looked for answers and tried to find solutions. When that didn't work, I reported on that experience and the ways it was really a mirror of the larger problems within the entire industry. That reporting and that conviction I think were equal parts the catalyst for my being here. And I think what's so amazing is that there was a time when speaking out would have been the disqualifier, would have been the thing you shouldn't do in the industry because you'd never see another full time job in this industry again. Like I said, I'm just glad that NPR didn't see it that way, and I think a lot of people are really, really proud and encouraged to see the industry responding to me that way.
You were able to speak out publicly about your employer and, despite what critics said, still land a job in the industry afterwards. Why do you think that is?
I'm joining a team where having these tough conversations is by design, and looking at race conflicts and tensions is part of the work that Code Switch does. Because of that, I'm joining a team that's at a really different starting line. It's already a really different environment than where I've been in mainstream news, and for this moment of my career that's a really good thing. The team at Code Switch is tasked with unpacking race and identity and how that intersects and interacts with everything else in our society. My experiences as a social justice and community field reporter along with my lived experiences make this a really, really good fit.
Beyond that, I'm working with a team full of diverse professionals with beautiful backgrounds and unique identities, all of which are essential to the robustness of the team and the content this team is known for creating. That I consider my diversity inherently valuable, that I come with representative, intellectual rigor that may challenge the status quo, and that I intend to elevate stories from the communities to which I belong and identify closely and personally may be "controversial," but is also all very much aligned with the work of Code Switch.
You asked me what I think my story does for other people who want to speak out. I think it's probably encouraging to follow the polished, curated parts of this journey that I have shared on my way to this incredible opportunity at NPR today after publicly speaking out against the lack of representation in the industry last year. But my hope is not that other people, other young journalists of color, should have to go through the same experiences in a newsroom that I went through, to fight the same fights I fought, or for things to be so desperate that they would be willing to become a sacrificial lamb on the way to overdue, obvious progress.
My hope is that the more of us who get into these spaces and succeed, and the more allies we garner – the more that these patterns will start to resolve themselves from the inside out as a result. Risking your career shouldn't be the norm or the standard to effect lasting, necessary change.
It really comes down to managers and newsrooms prioritizing a different culture – a more inclusive, more representative, more empowering culture both in the newsroom and in the storytelling and coverage. I think the more that we come together, the less it will require one individual's sacrifice. The industry is changing. I think that newsrooms know now more than ever how much they need us in the room, doing the work, leading the way.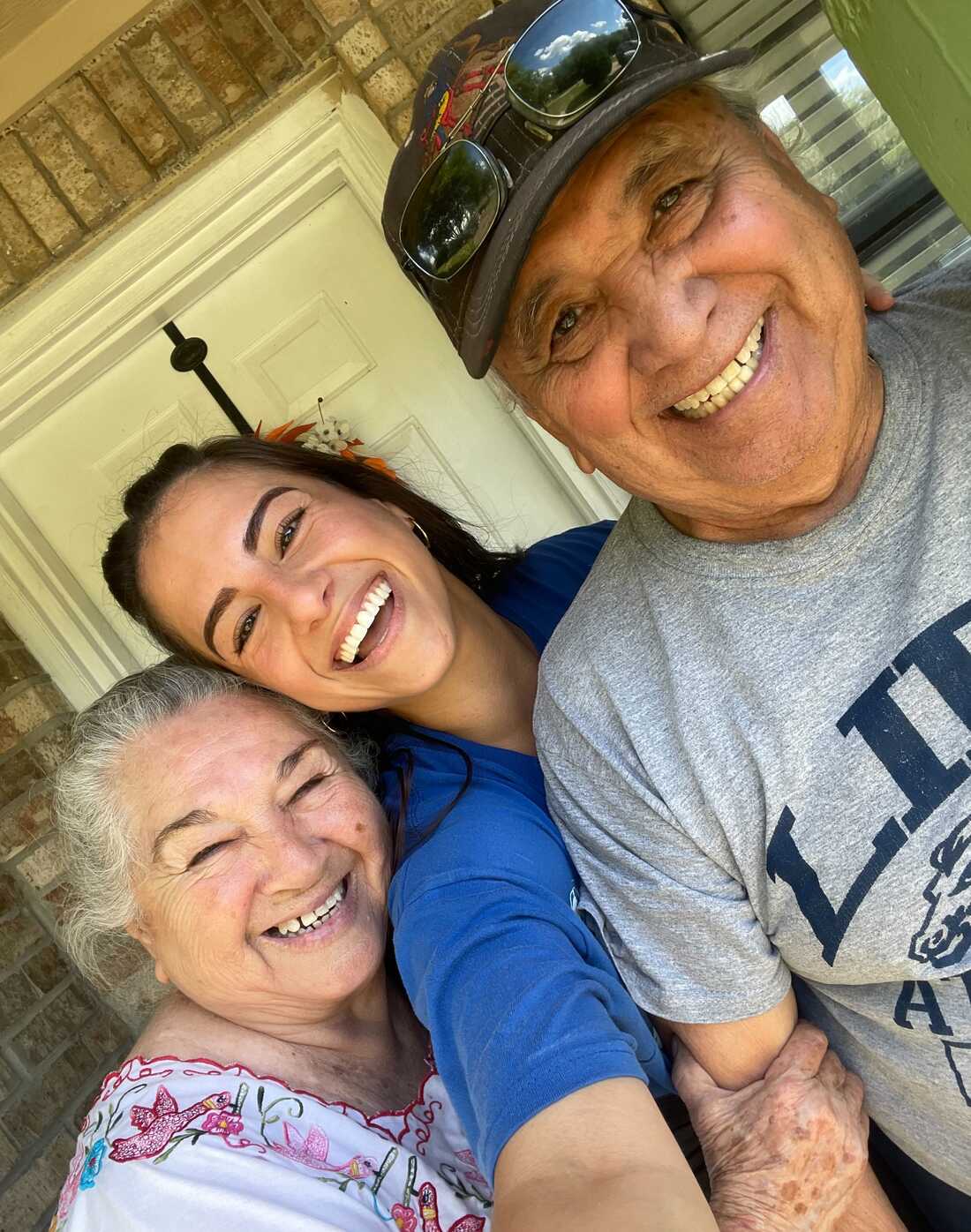 Before you got to NPR, I read that you said that your mantra to yourself was, "don't get fired." I want to know, what is your mantra now at NPR, if you do have one?
That's such a good question, Sommer. I'm keeping an open mind. I don't know if I've come up with my new mantra just yet. I'll have to let you know! What I'm prioritizing coming into NPR and Code Switch, though, is showing up authentically for my community, for my family, for myself, and for anyone who sees themselves in me and in the last name Lizarraga.
As far as my new mantra goes, for now I'm beating to a tune that sounds a lot like gratitude. There were so many hard days on the way to this opportunity, but I can hardly remember the hard days for how good these most recent ones have been. I'm holding onto that for as long as I can!
So how has your transition to NPR been, and what surprised you about this place?
Sound Bites [the NPR HQ cafeteria] came out of left field and upgraded my life in a way I didn't even know I needed! Seriously, the weekly themed lunch menus make me feel like a school kid again. So that's been a total treat. Beyond that, NPR HQ is just massive. The D.C. office is beautiful, and so much bigger than I expected. Especially after being in a pandemic lifestyle the last two years, you forget how many people it takes on any given day to put out the kind of quality content in the quantities that NPR does. It's cool to see how many people are making this NPR thing happen. And it's really fun to be back in person again, honestly.
I forgot how much energy comes from being in the same room with like-minded, driven, diligent people who are as excited as I am to nerd out over news, current events, content creation, doing stories differently, doing stories better. There's only so much that your friends who aren't in news and media can talk about this stuff before they're begging for a new topic of conversation, right? It's fun to have people who are as excited about it as I am. Surrounding ourselves with that energy is really important, I think. It gets you excited about coming into work, about doing the work, and about doing it the best that you can. It's been a great whirlwind of a first month at NPR for me and I will have to let you know how this transition has been once I catch my breath.
What conversations are you looking forward to having, and is there anybody that you want to interview? Or any topics that you're like, "We have to talk about this"?
I think this is such a unique time to be looking at current events – what's happening in the world with elections, climate change, inflation, policing, the housing market, literally any headline that you hear or read on any given day on your Twitter feed or what your friends are talking about. There is always a throughline of race, culture and identity in the mix. So I'm really excited to be a part of those conversations that everybody is talking about, but with the informed perspectives and thoughtful framework that Code Switch brings, doing what Code Switch does so well by creating these long-form opportunities for people to sit down and really educate and challenge themselves on the topics of race, culture and identity.
I'm also looking forward to lending the Code Switch expertise where mainstream news doesn't have the capacity or know-how to truly reflect or expand on challenging racially charged issues and stories. Not just for the sake of having a Black person talk about it or having a Latina on the show, but really lending our lived and learned experiences to the conversation to illuminate some nuanced but important insight on a complicated issue.
Between the three of us hosts, there is a Latino background, an immigrant background, a mixed status family background, single-parent home background, small town backgrounds, varying socioeconomic backgrounds, how we grew up, where we grew up, how we talk, who we know, who we care about, the language that we use. All of that is so valuable, and while I know we are competing for people's attention in a seriously oversaturated medium, I'm excited to continue to stand out because of the voices that make Code Switch so unique and so valuable. There are a lot of current events and real world issues over the last year that I would have loved to have had the voices of Code Switch educating me about. I'm hoping that we can be more involved in real time with a 3-host stacked show now.
So when's your first day in the host chair?
I'm debuting as the third and final Code Switch host in true Leo fashion – in-person in front of a live studio audience at Code Switch's first post-pandemic live show since 2019 in none other than The Studebaker Theater of Chicago. After that, the team will reconvene in DC to work on my official introductory episode to the world later this month. I'm so excited for all of it. November will be a huge month.
An incredible part of this experience, among many, is that it's been eyes wide open on everybody's part. I'm coming into this role with a lot of reporting, editing, writing, cutting and producing experience, but not nearly the expertise that my NPR colleagues have with audio and podcasting. My team and my boss know that and have carved out a large window of time for me to get comfortable, to ask questions, to learn from the best, and take the time I need to get trained and get comfortable with this medium. I really, really appreciate that. I've been in a lot of jobs where it's sink or swim. This team hasn't put "sink" on the menu and I'm all about it. They're giving me a long runway to get it all right and the content is going to reflect that. I can't wait for everybody to hear what we have in store in this new era of Code Switch.