Black Stories, Black Truths: NPR's New Campaign Celebrates the Black Experience
Turn on NPR today and you'll hear a range of voices as varied, nuanced, and Black as the country we reflect. That's because NPR sounds like whichever one of our hosts is at the mic, and all the passions, quirks, and lived experiences they bring with them.
Welcome to Black Stories, Black Truths: a video series, a collection of podcast episodes, and—most importantly—a celebration of Black voices in journalism. Our voices aren't a monolith, and neither is public media.
Launching today, this campaign is a rallying cry. While a host's work is focused on stories, the core of NPR Extra's work is focused on people, and we're not afraid to get up close. Our hosts' voices, opinions, and lived truths are below, in videos, behind-the-scenes clips, and a podcast feed. Welcome to NPR, noir.
Interview Videos
"What happens when an interviewee recognizes that you're Black?"
"Do you ever feel the need to turn up or down your Blackness in your work?
Hard-hitting, at times uncomfortable, and completely authentic – Black Stories, Black Truths kicks off with a series of interviews with fourteen of NPR's Black hosts. Our goal was to bring humanity and light to the work that they've done through carefully-chosen questions that invite them to open up in ways we don't often get to hear.
Aisha Harris, Pop Culture Happy Hour
Ayesha Rascoe, Up First & Weekend Edition
Michel Martin, Up First & Morning Edition
Gene Demby, Code Switch
B.A. Parker, Code Switch
Sidney Madden, Louder Than A Riot & NPR Music
Rodney Carmichael, Louder Than A Riot & NPR Music
Juana Summers, All Things Considered & Consider This
Brittany Luse, It's Been A Minute
Korva Coleman, NPR News Now
Dwane Brown, NPR News Now
Shay Stevens, NPR News Now
Eric Deggans, NPR TV critic
Bobby Carter, Tiny Desk & NPR Music
The Podcast Feed
Black Stories, Black Truths is a place to hear voices that speak truth to power. We believe that if you're not telling stories and considering a Black perspective on them, you're missing a critical piece of the story. With shows and podcasts as wide-ranging as the Black experience, we're doubling down on our belief that stories should never be about us without us.
Behind The Scenes
The shoot was a blast and we want to relive some of its key moments with you. Scroll below to see our hosts celebrate the radical act of being themselves. Every shot is a living account of what it means to be Black today. That's the thing about being Black – it's nuanced. It's complex. It's beautiful. It's everything.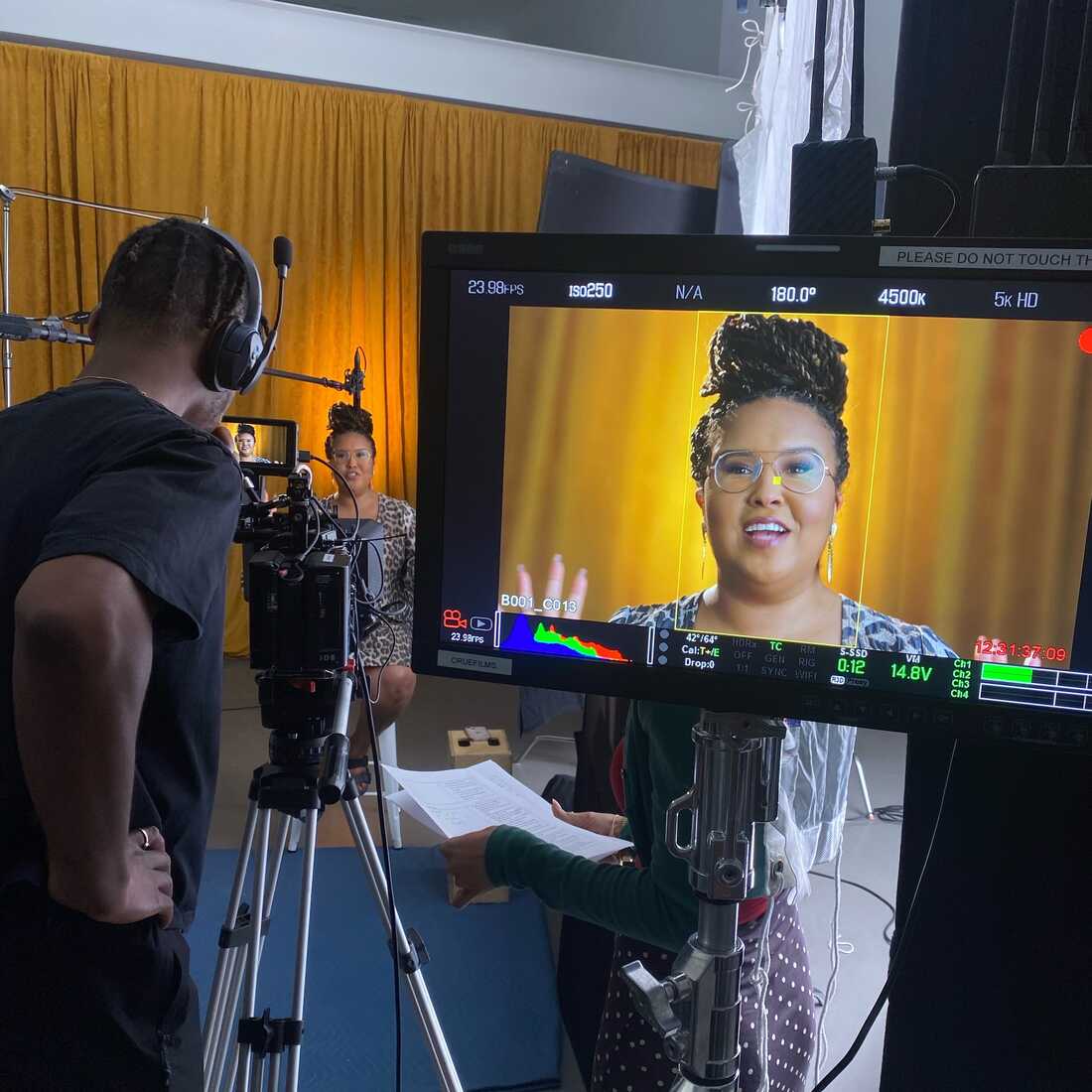 Credits
Special thanks to Samson Binutu and Katrina Binutu from Cruefilms, and Carol Paik and Shannon Sun-Higginson from Shoes Off Media, for helping make these videos a reality. Their "crue" includes: Jake Norris, Jeff Fitzgerald, Ryan Clark, Marc Elzey, Ben Sands, Astra Baptiste, Doris Elias, Nathan Peoples, Jason Altomare, Jared Soares, Chris Birck, and Justin Gellerson.
On the NPR side, big shout-out to Lyndsey McKenna, Mathilde Piard, Brent Baughman, Ashley Montgomery, Orlanda Antunes, and Clinton Walker for their audio support and help putting together the feed.
Thanks also to the Branding & Marketing team for leading the charge on this campaign and the vision behind it: Michael Smith, Kristin Hume, Wanyu Zhang, Sergio Romano, Mina Tavakoli, Luke Medina, Alex Reade, Maty Bauer, Jordan Postma, Jasmin Thomas, Al Golomb, Darya Bor, and Chris Apaid.
Thank you Sommer hill for helping us capture the behind the scenes content and sharing the campaign with the world through npr Extra.
And, lastly, big thanks to the stars of the show: the 14 hosts and journalists who lent us their time and wisdom, and brought ALL of themselves to the set. Without you, there would be no campaign.