When 'Flirtation Cards' Were All The Rage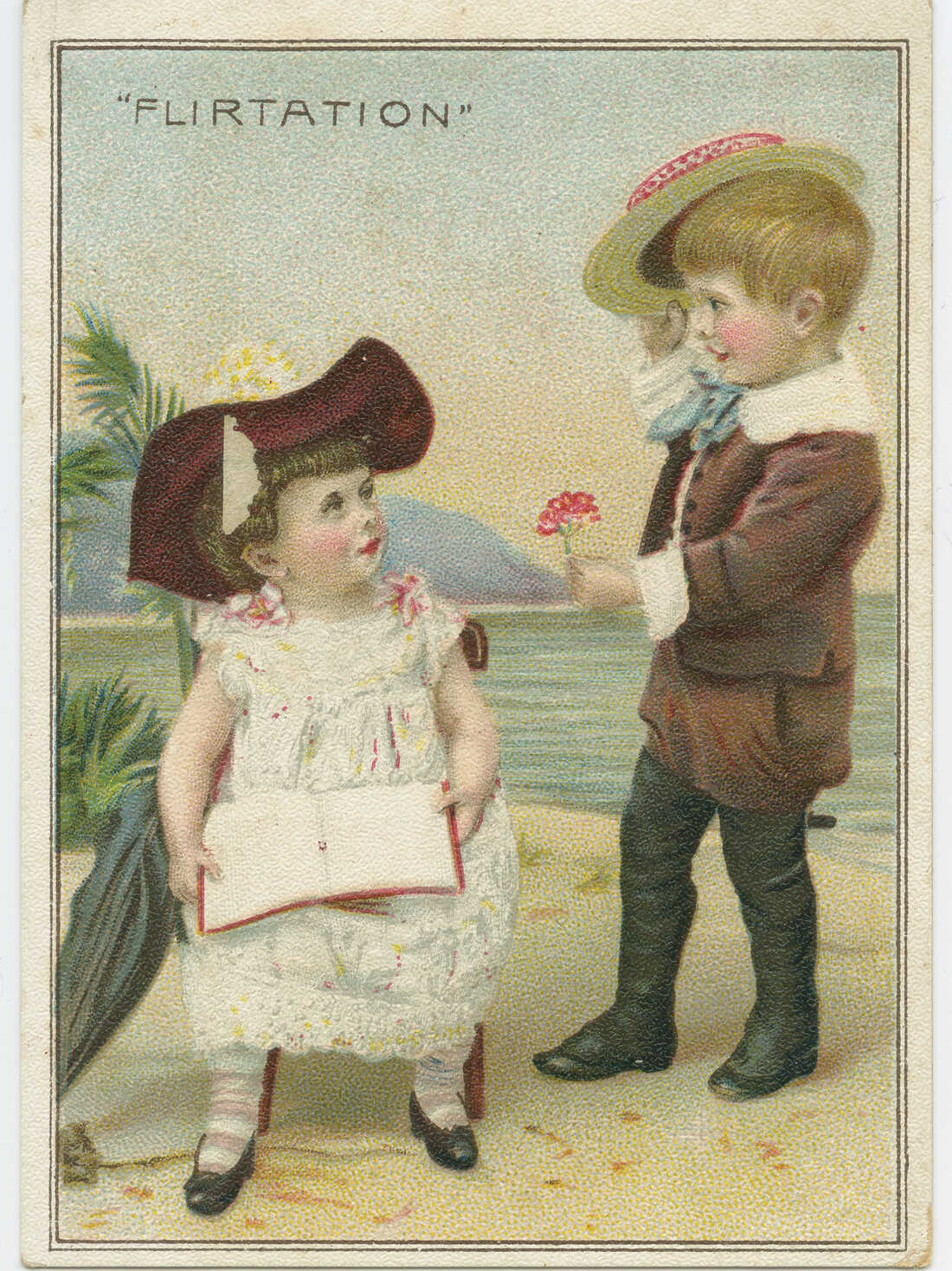 Under the 1871 Morning Oregonian newspaper headline, "Reform Needed," is this sentence, which tells you a lot about American social life at the time: "A practice which is becoming more prevalent among our boys and girls, more especially our girls, is that of flirting."
Never mind that humans have been flirting with each other for centuries — Romeo and Juliet, courtesy phones. What makes the story more intriguing is the mention of "flirtation cards" and the accompanying description of casual courtship in the late 19th century.
In the ever-so-proper Victorian era, folks handed out cards for all sorts of events and to express a variety of emotions, including sympathy, grief, friendliness and flirtation.
The flirting game was explained this way: A lady and gentleman meet on a street. They exchange glances. As they walk on, the woman dangles a handkerchief — if she is interested in the man following up on the glance. If he is equally curious, the two strike up a conversation. One gives the other a personal calling card. And a date is planned.
"Our promenading thoroughfares, parks and all kinds of public resorts," the reporter notes, "are thronged every evening with girls from 10 years old and upwards in companies of two, three and from that to half a dozen, more for the purpose of carrying on flirtations with the crowd of gaping men of whom there is an equal number, than anything else."
This is, the reporter adds, a "dangerous practice."
'Blissful Pleasure'
Flirtation cards of many types were prevalent in restrictive Victorian America. Some cards showed you how to flirt; others were passed back and forth between flirting couples; others just celebrated the idea of flirtation.
"Flirtatious and fun," according to the 2000 Encyclopedia of Ephemera, the personal flirtation — or acquaintance or escort — card "brought levity to what otherwise might have seemed a more formal proposal. A common means of introduction, it was never taken too seriously."
Ephemera collector Alan Mays says, "Acquaintance cards contained a gentle humor that was intended to break the ice and subvert the conventions of the more formal rule-bound visiting cards."
When you read examples, such as those found in Alan Mays' collection on Flickr, many do seem relatively harmless:
-- "Dear Miss: You are sensible and good, / And have all the charms of womanhood; / Your eyes resemble the stars above you; / I shall be miserable if I can't love you."
-- "May I be permitted the blissful pleasure of escorting you home this evening?"
-- "May I see you home? Or will I have to set on the fence and watch you meander by?"
Others are a little more direct:
-- "Let's get acquainted for fun and results."
-- "Come and see our new Lamp. You can turn it down so low that there is scarcely any light at all. P.S. Our Sofa Just Holds Two."
Many of the flirtatious calling cards, observed the Daily Mail on April 24, 2015, "have all the flowery but insincere charm of a cheesy modern-day pick-up line."
Sometimes the cards suggested something more.
A flirtation card was entered as evidence in a murder trial, the Brooklyn Daily Eagle reported on Dec. 10, 1879. A husband was accused of slaying his wife, and his defense attorney objected to the idea that a flirtation card "appears to have been introduced for the purpose of showing the accused to have been intimate with women other than his wife."
From Kansas to Pennsylvania to Indiana, 19th century shopkeepers proffered flirtation cards. In Princeton, Minn., the "red-hot" items were sold for less than a penny apiece, according to the local Union of Dec. 18, 1878. Some businesses, like Wilson Grocery in Peoria, Ill., issued the novelties as a way of advertising.
Writing in the 1878 Social Etiquette of New York, Abby Buchanan Longstreet notes that, "to the unrefined or under-bred, the visiting card is but a trifling and insignificant bit of paper; but, to the cultured disciple of social law, it conveys a subtle and unmistakable intelligence. Its texture, style of engraving, and even the hour of leaving it, combine to place the stranger, whose name it bears in a pleasant or a disagreeable attitude, even before his manners, conversation, and face have been able to explain his social position."
Creative Tools

Cards, in general, "were the ambassadors of social convention, and their subtle, covert messages were well understood by those who used them as tools in the creation of an image of respectability in an increasingly demanding and judgmental world," observes Barbara Rusch in her 2013 essay The Secret Life of Victorian Cards.
And personal flirtation cards cut through a lot of rigamarole. Some even carried a built-in rejection opportunity.
"Can I have the pleasure of your company this evening?" inquired one version that showed a man and woman touching hands. "If so, keep this card; if not, please return it."
---
Follow me @NPRHistoryDept; lead me by writing lweeks@npr.org