This Weekend In Berlin: 'Rixdorfer Strohballenrollen Festival' Part 1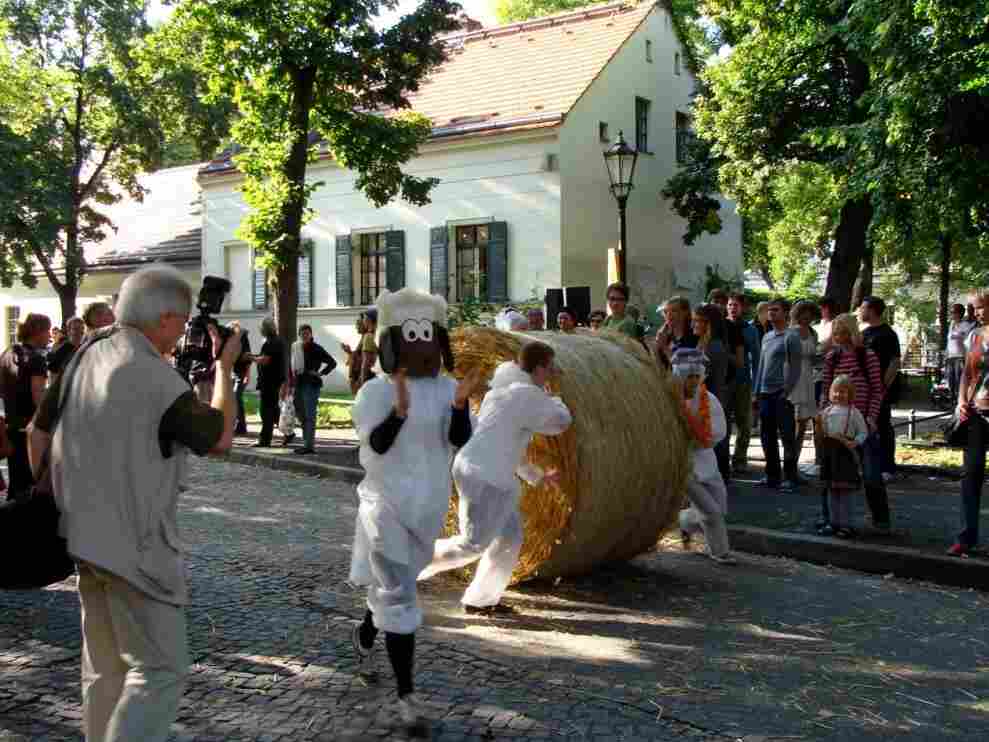 Tam Eastley for NPR Berlin
Last year, while wandering around Neukölln, I found myself in historic and beautiful Rixdorf.
The area has the feel of a small village, with a blacksmith in the middle of Richardplatz, the main square, a horse stable off to the side, and surrounded by beautiful ornate buildings with meticulous gardens.
It's one of my favorite places in Berlin. But on this occasion, I was astounded to be faced with men and women dressed like superheroes, angels, and sheep who were pushing hay barrels around the square.
Crowds of young and old were cheering and running alongside the exhausted teams and yelling encouraging words.
The streets were littered with hay. Ska music was pumping from a stage in front of the corner church, the beer was flowing freely and stands of multicultural cuisine had sprouted up amongst the excitement. Goats from a petting zoo were baa-ing down a side street, and neighborhood children were rapping and breakdancing.
"What is going on?" I wondered.
It was the annual Rixdorf Strohballenrollen Festival (Hay Barrel Rolling Festival), which is celebrating its 178th year this Saturday, September 10th. The festival has many elements, though the thrilling hay barrel roll competition is the main event.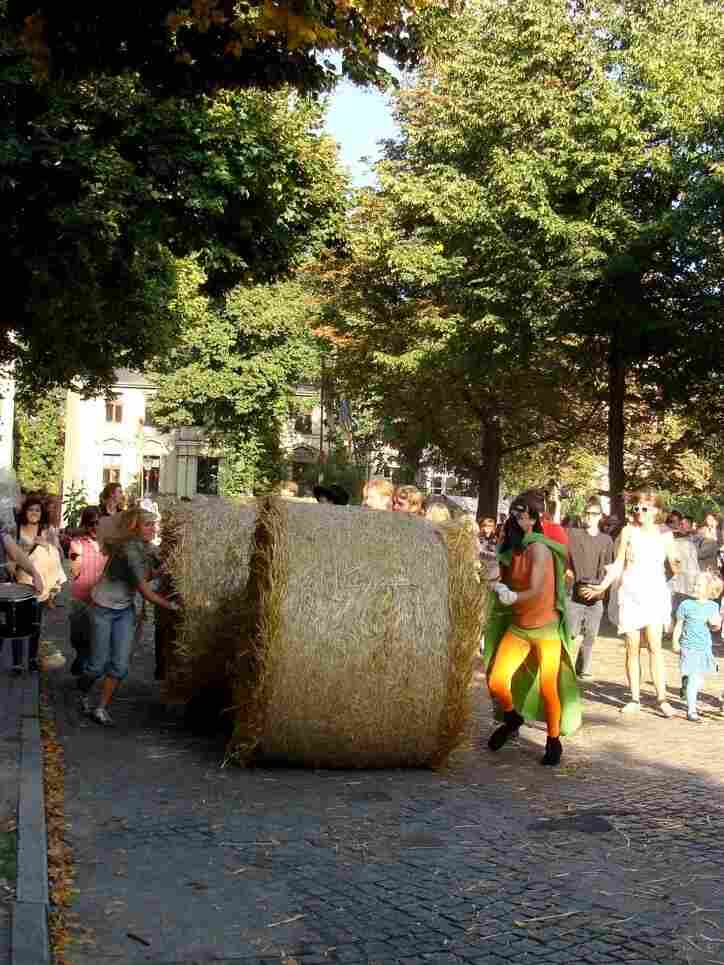 Tam Eastley for NPR Berlin
A team of four to pushes a 150-200 kilogram hay barrel (roughly two metres in diameter) around Richardplatz as fast as possible. It's not the speed that matters, although it helps.
At the end of the night, extra points are awarded for costumes (the winners last year had an angel/Alex from The Clockwork Orange theme), fairness, participation of women, gracefulness, and knowledge of Rixdorf. The team with the most points wins an enormous silver trophy which they keep for a year.
At the moment, 21 teams are expected to participate, although teams of four are welcome to register on the spot at 1:00 pm in front of the Rixdorfer Schmiede (Blacksmith) and then have an hour to practice their rolling skills.
At the moment, ancient looking banners strung from lampposts around Richardplatz advertise the event with the word: "Popráci," which is Bohemian for "after-work."
Why Bohemian? Well...
On Wednesday, I met with the festival committee, and they maintain, somewhat humorously, that in 1737, when Rixdorf was just a small farming community on the outskirts of Berlin, the first Strohballenrollen festival took place. At the time, Rixdorf was populated not only with Germans but also with Protestant Bohemians (from what it now the Czech Republic) who had been invited as part of an incentive program to bring skilled craftsmen to the area and to spur growth.
As a result, the Bohemian immigrants were exempt from taxes and military service. Because of this, and also due to differences in language and culture, the two groups were constantly fighting. When the Germans tried to invite the Bohemian settlers out for drinks, the settlers would make up excuses and would say "popráci," thereby always putting it off for another time.
Finally, fed up with all of the hostility, the Bohemian community leader and the German village elder held a secret meeting and planned the festival in order to bring the two groups together. It was an opportunity for everyone to get to know each other, shed their cultural differences and stereotypes, and to have fun. The festival continued for 174 years until it was banned in 1911 by Kaiser Wilhelm II.
Then, in 2008, a Rixdorf-based artist's group decided to reinvent and revitalize this long forgotten tradition, and Neukölln, the heart of multikulti Berlin, is still the perfect place it.
Marion Wegner, one of the event coordinators, says the message of the festival today is the same.
"It's about people from different places living peacefully together." She says pushing hay barrels is "something that people can do together. It requires teamwork and cooperation."
Indeed, the festival is a perfectly bizarre metaphor for what's needed in today's society. The festival is 100 percent a community event.
"It's a big network," says Norbert Kleemann, another coordinator. The organizers are all Rixdorfers, and community businesses in and around Richardplatz are involved, either as sponsors or contributors. The hay barrels and the petting zoo are supplied by local Berlin farm Milchhof Mendler. There's even a children's stage to involve and motivate the local kids. Rap and breakdancing contests will take place and be moderated by Maradona from the successful local film Neukölln Unlimited.
Keeping with the story, the event also works in conjunction with the Czech Embassy (representatives will be present on the big day) and Neukölln's Bohemian sister city, Ústí nad Orlicí.
This year, two Czech teams will be competing. Apparently, according to Kleemann, Ústí nad Orlicí loved the idea of the festival so much, they have since started their own. Ústí nad Orlicí's other sister city, located in Poland, has also gotten wind of the event and are thinking of starting one in their town too.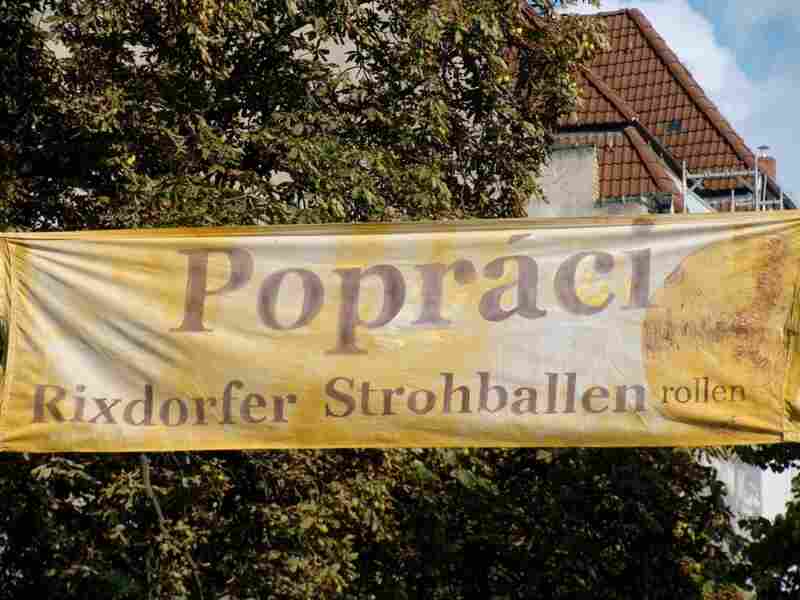 Tam Eastley for NPR Berlin
Hopefully this strange little German Dorffestival will spread, bringing cultures together through humor and communal hay barrel pushing.
Keep your eyes on this blog for my exciting follow-up and news of the special prizes, events, guests and winners!
The 178th annual Rixdorfer Strohballenrollen starts at 1:00pm in front of the Rixdorfer Schmiede with team registration. For a full schedule, please see the website.
Closest train stations are S-Bahnhof Sonnenallee and U-Bahnhof Karl Marx Strasse.