Charlottenburg's 'Hotspot': Constructing A New Cultural Identity Through Food
"Food preferences serve to separate individuals and groups from each other, and as one of the most powerful factors in constructing identity, we physically, emotionally, and spiritually become what we eat."
For Hotspot, the Charlottenburg based Chinese restaurant, this could not be more true.
With a menu that offers authentic Szechuan Chinese-style dishes, along with an impressive list of German wines, Hotspot is an example of how we can preserve our cultural identity while at the same time construct a new one by blending different food cultures and traditions.
Jianhua Wu, the owner and operator of Hotspot, serves authentic Szechuan dishes with an exceptional selection of German varietals. This allows him to develop a deeper understanding of German food and wine and subsequently acclimate into the culture.
Prior to opening the popular neighborhood spot, whose clientele consists of neighborhood regulars and high-profile German politicians, Wu ran a run-of-the-mill Chinese style restaurant in Moabit.
"The food was not good, and the ingredients were poor. There was no wine list either."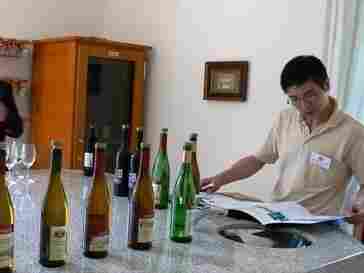 Soon, however, Wu developed an interest in French Bordeaux wine and began researching viticulture. He ordered a case that proved to be too classy for the kind of food he was serving.
When Wu opened Hotspot, his intentions were clear: serve high-quality Szechuan food with German wine.
"Soon, I was traveling to Mosul and meeting with producers and tasting wines. I loved the German Riesling. For me, it is the perfect match for spicy Chinese food; it has the right amount of fruit and minerals and pairs much better than say, a cold beer."
If you dine at Hotspot, you can't help but notice the extensive wine list - one that gives pairing suggestions. This is unusual for Chinese-style restaurants.
Today, Wu still maintains a strong relationship with the producers in Mosul, remaining loyal to some of the originals, such as Joseph Christoffel, Jr. He still continues to seek out different varieties of Riesling, both as a source of business and for pleasure.
His restaurant demonstrates that food preferences and cultural tastes are not set in stone; mixing it up one can discover different tastes as well as form a broader understanding of another cuisine and culture.
Home to a number of immigrants, Berlin is somewhat of a cultural melting pot. Wu's restaurant represents a new breed of immigrants - those who are able to maintain their identity while at the same time embracing their new German home, giving to it something new and fresh.
Wu still claims that he feels like an outsider.
"China will always be my home", he says,"but I don't think I will ever go back. Berlin is my home now, and Hotspot offers me the chance to combine my two homes as well as my two loves: Szechuan food and German Riesling."