A Mongolian Yurt Comes to Berlin
It's hard to say what's so amazing about Mongolia- truly a toss up between the people and the landscape.
The scenery is wide open and breathtaking. It ranges from rolling valleys to the choppy Gobi desert. The cities can be crumbling Soviet relics or a simple assemblage of yurts (a traditional Mongolian tent) surrounding ancient monasteries.
The people are famous for their hospitality and are outrageously friendly. When I left Mongolia in May, I cried. I'd met the kindest people, and I didn't want to leave them. But, of course, they have to be hospitable to one another; Mongolia is the 19th largest in the world and the most sparsely populated.
Many of its citizens are still herders and mostly nomadic. While traveling through the largely unpopulated countryside, herders are forced to spend the night in a stranger's tent so as not to endure the oftentimes harsh weather conditions.
Until January 6th, Berlin is presented with a rare opportunity to experience a little bit of Mongolia, and in the oddest place... Globetrotter, the outdoor adventure/clothing store.
Although, Globtrotter is a fitting choice; Mongolia is an outdoorsy person's paradise. They offer horseback riding, camel riding, hiking, and trekking, just to name a few.
So amongst the wind-proof jackets, thermal toques, and shiny climbing gear, Globetrotter, with help from the International Intellectual Museum in Ulaanbaatar, has set up a yurt.
The yurt is furnished with traditional Mongolian furniture, as well as toys, clothing, jewellery, puzzles, children's toys, paintings, and CD's. To my surprise, the prices were actually equal to or less than they were in Mongolia.
My favorite purchase? Ankle bones. Inside a little woven purse are four small ankle bones (normally from sheep or goat). Roll the ankle bones on the table, and each combination of how they roll tells a fortune.
Maybe it sounds a little unappetizing, and admittedly at first I was reluctant to touch them, but this game is huge in Mongolia. I was overjoyed to find them here in Berlin and, perhaps a little too eagerly, bought my own set.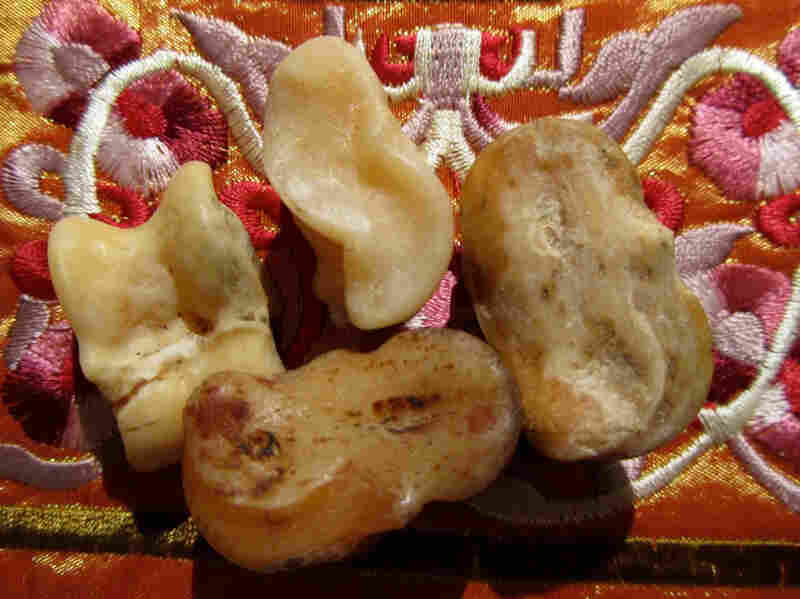 It brought back amazing memories of a cold and snowy night in a yurt in the middle of Mongolia, passing the time rolling ankle bones, playing various games, drinking Chinggis Khan Vodka, and trying to decipher which side of the ankle bone was which.
On the evening of December 20th, for even more of the Mongolian experience, the yurt and Globetrotter are hosting an evening with Sarah Fischer, a travel writer, photographer, and a German with Mongolian background. She'll be giving a presentation (in German) about Mongolia and her experiences, and the evening will be accompanied by live music.
The event starts at 20:00. Globetrotter is located at U + S Bahn Rathaus Steglitz.