A Gear Lover's Paradise
Freeze Frame: Sights, Sounds And Science From The Bottom Of The World NPR science producer Jason Orfanon guest blogs as he journeys to the Antarctic Peninsula. Keep up with him on Twitter: "@jorfanon." And view the whole series page.
By Jason Orfanon
One of the first questions people ask me when I tell them I'm going to Antarctica is, "What kind of cold weather gear are you bringing?" The answer, which usually comes as a shock to gear junkies like me, is: Nothing at all.
It's true. But that doesn't mean I'm going gearless. Quite the opposite, actually.
All photos by Jason Orfanon/NPR
The National Science Foundation, with the help of its logistical coordinators Raytheon and Agunsa, maintains a warehouse in Punta Arenas chock-full of all the clothes a person needs to stay warm in Antarctica.

They lend you everything from your outermost layer, usually a standard-issue red Extreme Cold Weather parka that can stave off the coldest of the cold, down to your base layer of long underwear, socks, and wool glove liners. They even supply Sorel Sno-pak boots, thick rubber-soled snow steppers lined with a dense layer of insulation that make tromping in the ice and snow a breeze. In all, I received some 40 pieces of clothing, mostly used, but in great condition.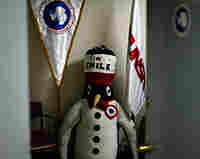 It's summer now in Antarctica, which means that temperatures at Palmer Station hover just above freezing most days. Not too bad for the world's coldest continent, but definitely chilly enough to make this Alabama native shiver in his Sorels.

So, I'll definitely take that parka, and put it to good use. And its not just because it has a cool patch that reads "United States Antarctic Program." They also come in handy if you ever want to send a message to the folks back home.

Coming up next: the life aquatic. I set sail on the NSF research vessel Laurence M. Gould, headed south for Antarctica.

Also check out The WonderScope Challenge, organized by NPR's science team. Enter your video about the proposed theme and have your work featured on NPR's YouTube channel!

Have an idea? Pitch it!

The Picture Show on Facebook or on Twitter